Bands with cats – Fathoms' Geoff Nilson and Satchmo
– by Cheena Jean Normandin
Your name: Geoff Nilson
Your band and role: Synthesizer, drum machine and guitar in Fathoms
What's your cat's given name?
Satchelation Eisenhower III, also known as: Satchmo
What's Satchmo's origin story?
My ex-wife bought him for my birthday in 2005. He was a kitten and we went full man/cat bromance. This was before my wife and I got married. Obviously, anyone who gets me a cat for my birthday is marriage material. If any of you out there have this happen, take my advice: put a ring on it. (I take no responsibility for the consequences of this action.)
Where's Satchmo from?
He's from a pet store on Broadway that I don't think even exists anymore. He's an orange and white bi-colour shorthaired. A fat-as-fuck rusty hustler.
Who feeds your cat?
Whoever he finds first. I feed him every morning and night, but he's pretty much always hungry. I know he's hungry when he starts following me around the house.
What's your cat's theme song?
My daughter and I wrote a song together called "Satchmo: The Christmas Cat". It is the best song ever written.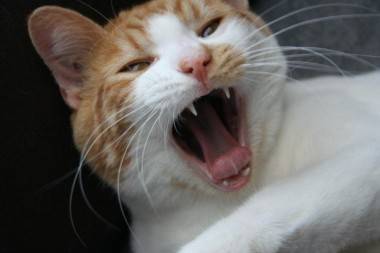 Your cat vs. Superman. Whose got better odds?
My cat. He'd just stare down Superman and whine his feral cat whine, which is a combination of a whine and a growl that might possibly be the most terrifying thing I've ever heard. He's faced off against cats, dogs, and even raccoons with nary a scratch. Some asshole shot him with a pellet gun and he barely noticed. Superman is scared right now.
What's broken into more – the liquor cabinet or catnip stash?
No need to hide it, we smoke joints together every day.
What is the last inconvenient place you have found your cat sleeping in?
Inside my open guitar case. It's soft and puffy in there, who can blame him? If I were a cat, I'd sleep there too.
What does Satchmo listen to when you're not around?
He loves guitar jams. No bullshit like Phish or Steve Vai. Satchmo is prog. Satchmo is post-rock. Explosions in the Sky,  Mogwai,  King Crimson, Frippertronics, that kind of thing.
What does your cat get up to on a Friday night?
True to his namesake, Satchmo is a jazz trumpeter, leader of an all-cat quintet. His Friday nights are filled with hot vamps in a smoky feline speakeasy. He plays out more than I do, the bastard.
Fathoms (minus Satchmo) can be found playing at the Railway Club on Jan. 24.
Links:
http://www.wearefathoms.com
http://www.twitter.com/wearefathoms
http://www.facebook.com/fathomsmusic
Previously, on Bands With Cats: