Bands with Cats featuring Hollow Twin (and George Feeny)
Hollow Twin are about to release their sophomore EP The River Saw Everything. It's the second EP from the self-proclaimed "dark folk/rock duo" of Emmalee Watts and Becky Wosk. Jonathan Anderson (Aidan Knight, Jordan Klassen, Said the Whale) produced and engineered the five-song EP.
According to a media release, The River Saw Everything "was born out of sorrow and evolved into something across the spectrum of emotion. The EP takes twists and turns, from dreamy and light to dark and haunting."
The band wrote the five-song EP following Wosk's stepfather's diagnosis of cancer in November 2016, and his subsequent passing in June 2017. The Vancouver duo is releasing the EP on CD and all digital media platforms. On Friday, Jan. 26, they play an early evening release show at the Biltmore Cabaret. Little Crow and Porteau are the special guests.
In our first Bands With Cats of 2018, Wosk shared with us some info about her feline, George Feeny.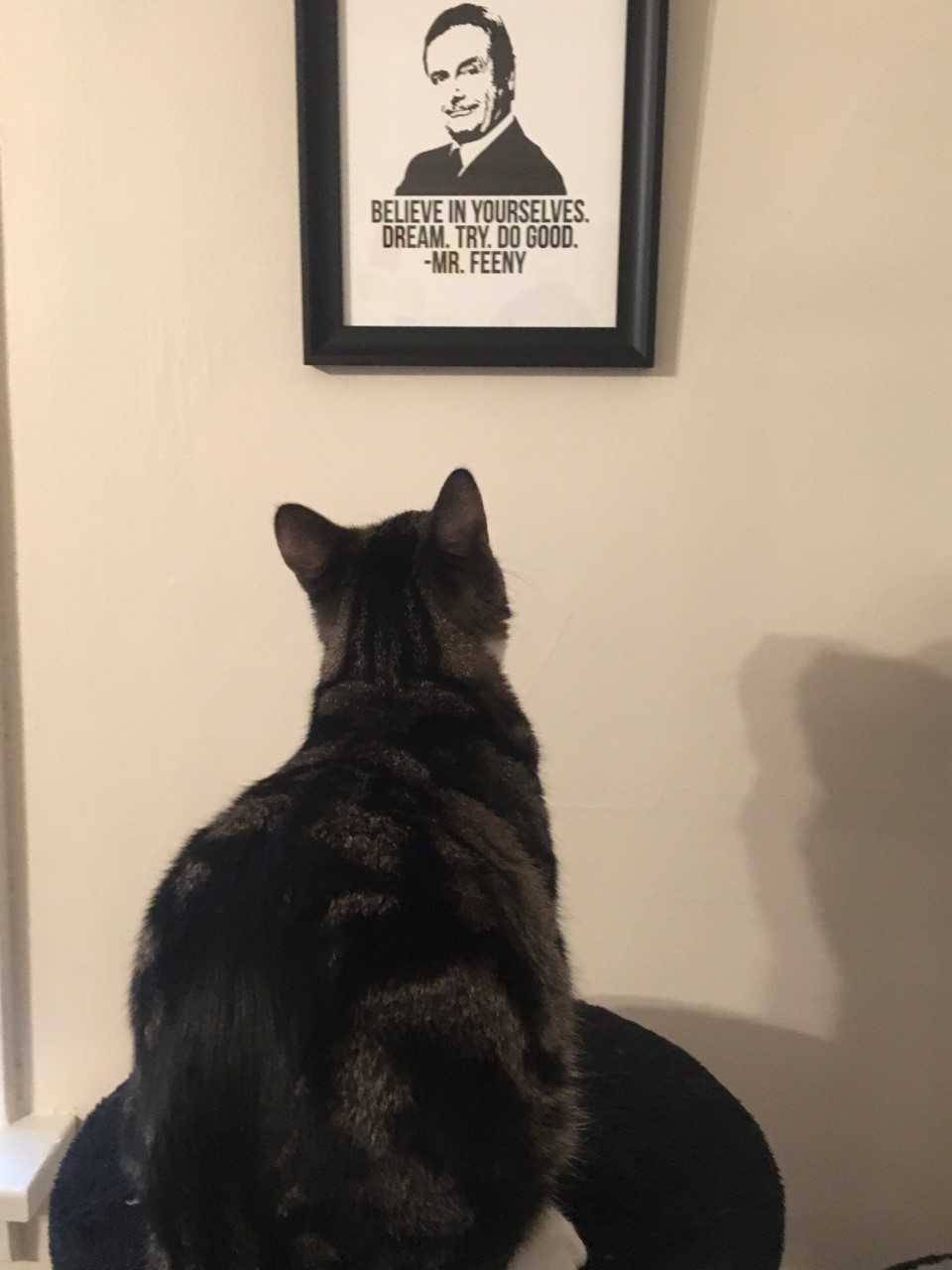 Human(s): 
Becky
Band affiliation (if any):
 Hollow Twin
Cat: 
George Feeny
Origin story (cat): 
I adopted him from the Surrey Animal Resource Centre when I went to Surrey with my sister. I went into a room full of kittens (they had an influx of kittens to adopt out) and he was nuts and he licked my finger. From that moment I knew he had to be in my life.
Approximate # of hours your cat sleeps per day: 
I'm pretty sure he sleeps all day, until about 11 p.m.-5 a.m. That's when he decides it's a good time to keep me away by meowing, swatting my face, finding garbage to play with, knocking things over etc.
Approximate # of hours your cat is awake: 
See above. Also, when he wants food at 6 a.m.
Approximate amount of time your cat stares at you with murder in his/her eyes:
 He rarely does this. He's only seven months old. I think he is still naïve to the world and has yet to learn the ways of his feline ancestors.
Most annoying thing about your cat: 
When he sees that I'm curled up in a cocoon ready to sleep and he thinks It's time to stick his paw in my face. Also, when I bend down to pick something up, he thinks it's an Invitation to jump on my back.
Best thing about cat: 
He's hilarious, and fluffy, and cuddly. He has a massive personality.
Favourite sleeping spot: 
Bathtub or on my clean clothes. Sometimes just on my head or legs.
Favourite toy: 
Well, I want to say the plush frog I got him, but that's a lie–he loves garbage/recycling, like random pieces of plastic packaging or carboard or foam. Those little circular tabs that come in almond milk cartons when you open them, those are his weakness.
Does your cat have a theme song? If so, what? 
"Oooh Child" by The Five Stairsteps.
If your cat(s) threw a raging party, what would be on the playlist?
"Rock You Like A Hurricane", Scorpions; "Fight For Your Right", Beastie Boys
; "Barracuda", Heart
; "Push It
", Salt-N-Pepa; "Evil Woman", ELO
"Dancing in The Moonlight", King Harvest
; "Hot Stuff", Donna Summer.