Bands With Cats – Destroy All's Scotty and Special Agent Johnson
-by Cheena Jean Normandin
Your name: Scotty Bartlett
Music affiliations: Destroy All & Disworship
What's your cat's given name?
Special Agent Johnson (mostly referred to as "bud bud")
What's your cat's origin story?
Johnson and I were united at an SPCA in Coquitlam when he was 1.5 years old. There were many cats but when we locked eyes I knew he was the one. He's been my sidekick for seven years. We've moved nine times together, and acquired two dogs. He's the toughest fuck I know. He's been kidnapped, ruled every neighborhood he's lived in, and taken down more rats and mice than any cat ever. But that's to be expected from a Special Agent.
What's its breed?
Pure black American Shorthair
Wet food, dry food, or the blood of his enemies?
He likes his kibble with a side of mouse brains.
What's your cat's theme song?
Maybe Tomorrow (Theme from The Littlest Hobo)  by Terry Bush and Africa by Toto.
Is your cat more of a prowling squirrels or attacking plastic bags type?
Squirrels, racoons, rats, and mice.
What does he listen to when you're not around?
"The Art of Self Defense" by High on Fire.
If your cat sees a VERY LARGE SPIDER- what's his course of action?
Stalk it! Kill it! Death and devour!
Is your cat hatching any plans or schemes at the moment?
He is planning to rid his house of canines and plotting a counter attack against the three raccoons that got into his cat food over Thanksgiving.
What is the last inconvenient thing that your cat fell asleep on?
He fell asleep in an air duct and didn't tell anyone where he went.
Scotty plays to the depraved masses with Destroy All on Dec.13 at the DIECEMBER FEST . Special Agent Johnson will likely be arranging to murder a medley of rodents at the time.
Destroy All bandcamp page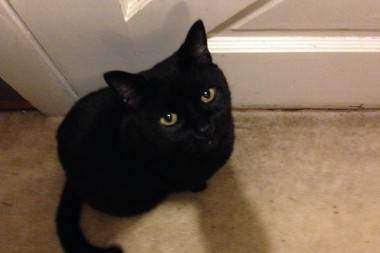 Previously, on Bands With Cats: