Bands With Cats – Catherine Hiltz and Benjamin
– by Cheena Jean Normandin
Your name Catherine Hiltz
Your band affiliation I play in a rock 'n' roll band called Hot Panda, and doodle around in other jazz/blues/cover bands in Vancouver.
What's your cat's given name? Benjamin.
What is Benjamin's origin story?
I got Benjamin from the SPCA in Edmonton in about 2005 or 2006. He was the friendliest kitty in the room!
Where is Benjamin from?
The vet thinks he is a Russian Grey.
What does your cat like to eat?
He will eat absolutely anything, but he prefers live birds, whole. He would also eat all day and all night if he had the opportunity.
Does he have a theme song?
Benjamin's theme song is 'Move Bitch (Get Out The Way)' by Ludacris.

What does it listen to when you're at work?
He mostly listens to AC/DC or Black Sabbath. When I am home, he sings them to me in his loudest voice. So charming.
What's your cats most heroic endeavour? 
Once he let me sleep through the whole night when I had the flu a few years ago.
What is your cat doing on a Saturday night at 9 p.m.?
Well… you know… he works hard all day. I be sure to rush home and get him the food he deserves – and only the highest quality natural canned chicken, it is the least I could do – he is so upset when IÂ  don't have any food ready for him. But, you know, he would never say so. Then I make sure he gets a drink and a cigarette and give him lots of time to nap or relax on the couch. I should be cleaning anyway… I am glad he can have some quiet time.
Pro- or anti-catnip?
Definitely pro-catnip. In fact, I sometimes catch him dropping suspicious packages into other cats' yards.
Has your cat ever murdered anything?
Benjamin is a mouse and bird hitman.
If you guys woke up in a Freaky Friday situation one morning, what do you think is the first thing he would do?
Go to the kitchen and open every single can in the house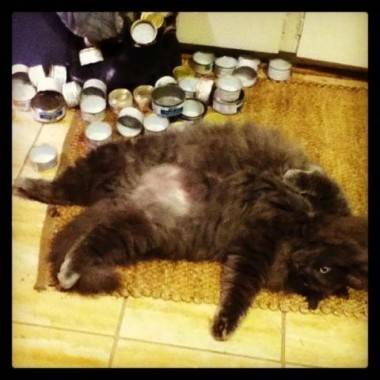 Hot Panda can be found here:Â  http://www.hotpanda.ca/
Annnnd they have a bandcamp page: http://hotpanda.bandcamp.com/
Previously, on Bands With Cats: