Bands with Cats – Chatterton Eve with Mr. Purr and Cara Mia
– by Cheena Jean Normandin
Your band(s) and role(s): Chatterton Eve-vocals/lyrics
What' are your kittehs' names? Mr. Purr (Pierre) and Cara Mia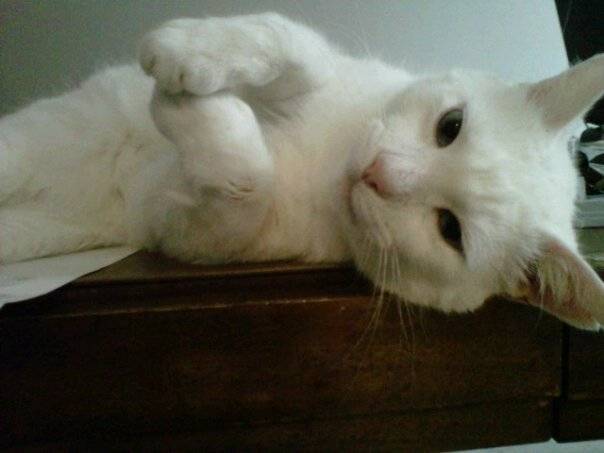 What's Mr.Purr and Cara's origin stories?
Mr. Purr found my sister at a park in East Van and got in her car. He had no collar - she brought him home and placed an ad for a found cat. No one responded and we have been his ever since.
Cara belonged to some friends, they had to adopt her out as a kitten and she's been our squishy for a few years now.
What do Mr.Purr and Cara eat? 
Cat food/treats, catnip etc. They really like to eat grass. I'm sure they go in to the kitchen when everyone is sleeping and whip up giant medieval-style feasts.
What do you think Mr.Purr and Cara's theme songs are?
Mr. Purr's would have to be "You Sexy Thing" by Barry White.
Cara's would be "Cara Mia" by Jay & The Americans.
Do you have reason to suspect Mr.Purr and Cara are hatching any incredible schemes at the moment?
Mr. Purr controls the weather, so he schemes on that daily while laying in really inconvenient places. Cara schemes to get outside all the time. She succeeds.
What is the last book Mr.Purr and Cara fell asleep on?
 Mr. Purr just sleeps on all of the newspaper. Cara was last sleeping on my Bon Iver book by Mark Beaumont.
What is the most impressive things that Mr.Purr and Cara have ever  murdered?
Pierre (Mr. Purr) is not a murderer - he would rather do yoga and chill than kill things. He's a lover. Cara loves to play with and eat insects.
What is the last insanely adorable thing you have caught Mr. Purr and Cara doing?
Cara likes to curl up in decorative bowls. She looks like a bagel. It's so cute. She also covers her face with her paws if it's too bright so she can sleep.
Purr is a pretty old man now, so whenever he gets bursts of kitten-style energy, it's so good. He'll hang out in random boxes he finds and pretend that he is hiding from the apocalypse.
What type of music do Mr.Purr and Cara listen to when they're basking in the sun and swatting at shadows?
Mr. Purr enjoys French music like Edith Piaf, or some hip-hop like Jay-Z and Outkast.
Cara prefers Feist, Kings of Convenience, Iron & Wine. She's kind of more into the indie-folk movement.
 
If you and your cats woke up in a weird Freaky Friday situation, what do you think would be the first thing your cats would do?
Probably fall, because they'd have to get used to being bipedal. Eat a lot of meat and things – which my body would be weirded out by because I'm a vegetarian. Make really strange noises and then realize they are human and save all the cats. They would honestly probably just do cat things in my body – you'd find them hiding under the stairs, trying to fit into boxes, laying on tables, sitting on fences, stalking birds and sitting on people. It would be awkward for when we switched back.
Chatterton Eve is currently on a mini Canadian tour. On May 25 you can find them playing the Railway Club with Teenagre, this is THE SHOES and The Written Years ($8).
June 1st  they will be rocking  the Red Room (tickets available through the band).
July 31st  you can get your fix at the Railway Club with Teenagre and Two Bears North.
Previously, on Bands with Cats:
Michelle Yale (Vancouver Cantata Singers)
Missy Clarkson (Vancouver Cantata Singers)
Sarah McNair (Vancouver Cantata Singers)
Brett Threats (The Grave Life, Keep Tidy and Stress Eating)