Review and photos -Â Machinedrum at Fortune Sound Club, Vancouver, Oct 29 2015
– review by Taisuke Tanimura, photos by Kirk Chantraine
Travis "Machinedrum" Stewart has a moustache. Not an innocuous, every-man moustache, but the sort that provokes discussion and head scratching. It sits on his upper lip like an afterthought left over from his morning shave, straddling that very fine line between hipster cool and teenage-nerd-awkward.
This was my first thought as I wandered into Fortune Sound Club on Thursday night to the sounds of pounding bass and thick snares. Kirk (the photographer) and his friend were also entranced by this small strip of facial hair, which seems so out of place on an artist whose 14+ year output has been met with near universal critical acclaim.
Drawing on a huge variety of musical genres such as drum 'n' bass, grime, juke, house and hip-hop, Stewart has an uncanny ability to create tracks that are both delicate and dancefloor dynamite. His latest album Vapor City (Ninja Tune, 2013) contains his signature polyrhythms paired with gorgeous atmospherics.
Album opener "Gunshotta" is the perfect example of his style with its menacing beat skittering over dubby synths and ragga vocals. His unique ear has led him to produce tracks for Azealia Banks, Theophilus London and Jesse Boykins III, plus collaborations with Jimmy Edgar and Praveen Sharma. His music with Sharma in particular, under the moniker Sepalcure, is some of the most hauntingly beautiful stuff I've heard in a long time.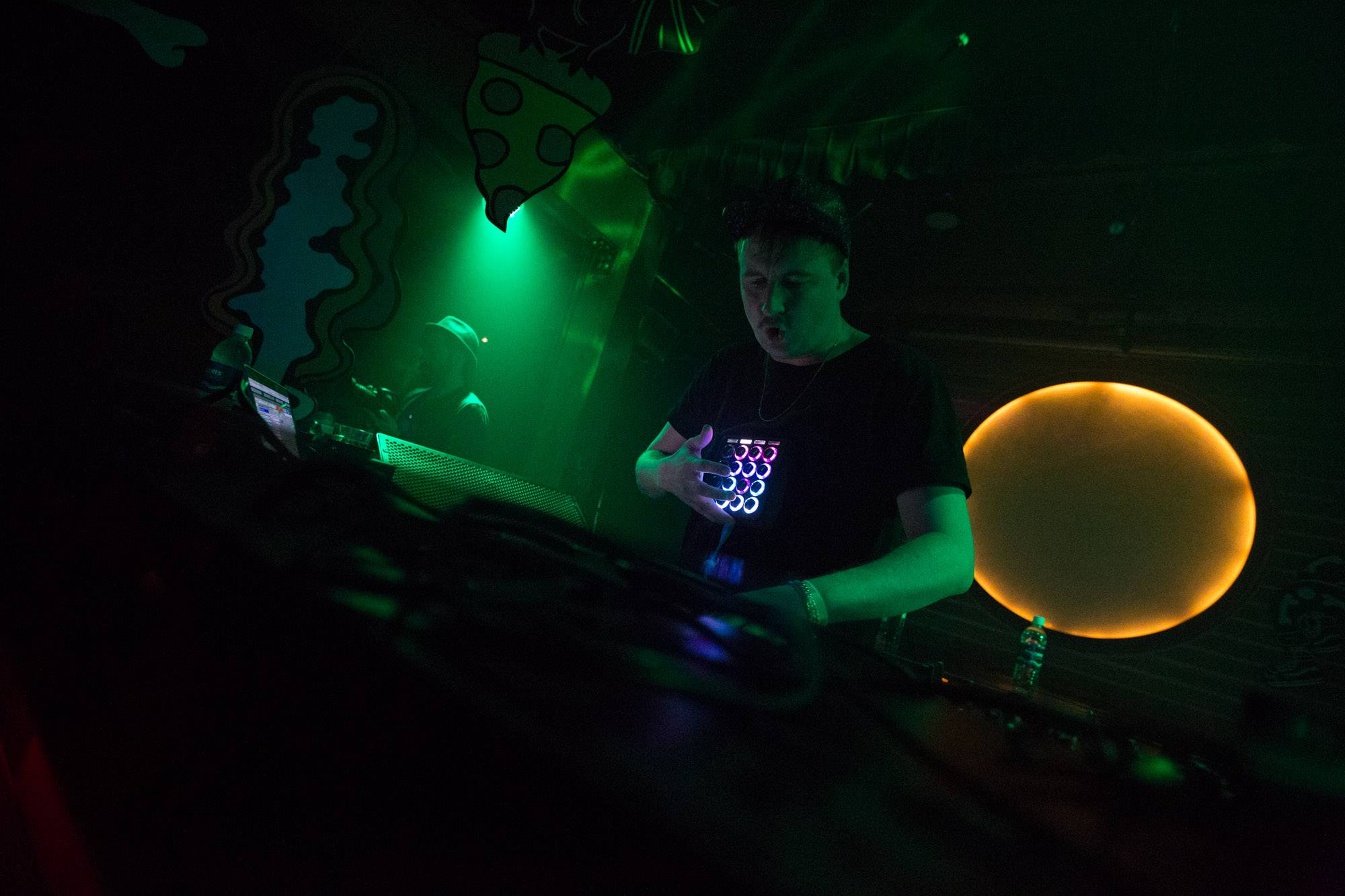 The mood in the venue was upbeat and festive, with neon Halloween decorations adding to the atmosphere. Stewart was bopping around energetically behind the decks, playing a more upbeat set than his studio output. There was a non-stop flow of old school drum 'n' bass, future-leaning hip-hop and dirty bass beats, and the crowd happily got its groove on.
Usually DJ sets tend to have a lot of lulls and peaks, but Stewart kept the quality level high throughout the whole night which is not an easy feat. Its a testament to his skill that he managed to keep this grizzled reviewer spellbound right until the end of his set. Or maybe it was that moustache. Seriously, Google it.
More Machinedrum at Fortune Sound Club photos: