Bands with Cats – John from War Baby and Rusty
– by Cheena Jean Normandin
Your bands and role: Jon Redditt/War Baby/vocals and guitar
What's is your cat's name? Rusty (or MeowMeow for short)
What's your cat's origin story?
We had a yard sale at a park near our house. We were drinking a lot and the yard sale sorta turned into a party and we were drunkenly bringing the remaining goods in when my girlfriend (Hayley) saw Rusty pop out of a bush meowing for help. She was completely matted (as in, her whole body was one giant matte) and bumpy (turned out she had some cancerous lesions). She looked pretty neglected, like a really cute, stumbling, mono-dreadlock. So we took her to the SPCA and had her fixed up (cancer successfully removed, mattes shaved off). They ran her ear tattoo for previous owners but didn't find anybody looking for her. And if someone is, tough luck, you should have taken better care of her.
Who feeds your cat?
Hayley and I. She eats Chicken Soup for the Soul cat food, some dental treats, a tiny bit of wet food for a treat. Also, she harasses me whenever I eat cereal to give her the leftover milk. Milk is like crack to her. If I'm sitting down eating cereal she tries to claw it out of the bowl.
She also does some very impressive standing and grabbing for treats, which I will send some examples of.
What do you think your cat's theme song is?  Maybe "Pretty (Ugly Before)" by Elliott Smith.
What is the most impressive thing that your cats has murdered?
Rusty will murder anything inanimate, from pencil crayons to plastic forks to the wood tiling on our bathroom floor. She likes to gnaw on plastic bags for some reason. She has been kind to our furniture, however, which has been surprising and considerate. The first and last living thing I saw her kill was a huge unidentified flying bug. We were impressed with her hunting skills but have never viewed her the same.
Do you have reason to suspect your cat is hatching any incredible schemes at the moment?
I don't have any suspicions; I know for a FACT she is always hatching schemes to get into our bedroom, where she is not allowed to go because Hayley needs an allergen-free room. She could care less about the outdoors, save maybe a passing curiosity. Just the bedroom… and the fridge… And her schemes succeed frequently! We find her inexplicably hidden in our closet all the time.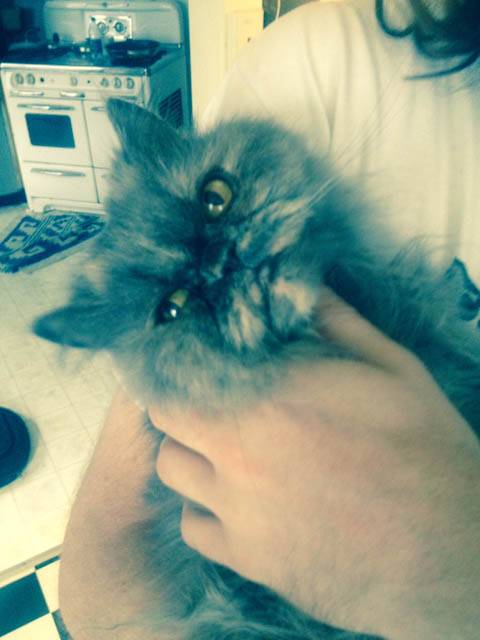 If your cat sees a GIANT spider, what is its course of action?
I think she will probably "play" with it until it's dead.
Where is the last inconvenient place that your cat has fallen asleep?
Everywhere. The cupboard where we keep plastic bags. The record player. Our records. My guitar case. On the printer. On Hayley's shoes.
If your cat threw a raging party, what are the staples on the playlist?
I think Rusty would be pretty eclectic with her playlist. But a few days after we found her she was sitting near the record player intently listening to some '80s punk/hardcore records I inherited from the garage sale.
7 Seconds, SNFU,   G.B.H. and Negative Approach all seemed to be hits. Also MC Hammer because it looks like she has Hammer pants.
If you woke up in a Freaky Friday situation with your feline - what's the first course of action on it's behalf? 
Drink a 2-litre milk carton and roll around in our bed. RAID the fridge and cry because no meat 🙁
War Baby info:
instagram: warbabyband
War Baby's next show is Dead Soft's LP release party on Aug 21 with The Courtneys and Mosfett (who have also been featured on Bands with Cats) at the Cobalt! More details on the Facebook event page.
War Baby is also doing a Western Canada tour in September with Invasives. 
Also look out for War Baby's sophomore LP spring 2015!