Bands with cats – Rob from The Ludvico Treatment and Vivian
– by Cheena Jean Normandin
Your name: Rob
Your deal: Enforcer and Weapons Master/drums in  The Ludvico Treatment.
 What's your cat's given name? Vivian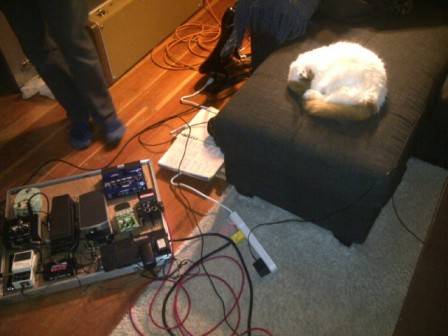 What's Vivian's origin story?
Her mother, an elegant purebred Turkish Van, was knocked-up underneath an old Buick parked out front of the old place out in Long Beach, California. Her father, a mean old grifter that trolled the burned-out beach communities of Los Angeles lookin' for any fluffy tail in need of some action. One could say Vivian was the perfect femme fatale right from birth.
Yes, she's seen many bands, cities, and countries come and go. Even looked the other way at all the illicit… "things" and even questionable, if not entirely illegal, animals and fish, but no matter what sort of slack-jawed shoegazer came her way, their lap was that warm comfy place called she called home…
Who feeds Vivain?
Well technically I do. But if I don't feed her on time or with the right food, shit gets sideways fast. So, who wags the dog here?
What do you think would be Vivian's theme song?
"I Want A Little Sugar In My Bowl"- Nina Simone

or
"Teo" -Miles Davis
 Is Vivian more likely to fall asleep on a pile of records or a pile of cassettes?
It's not a question of likely, she's already slept on 180-gram versions of Mazzy Star's So Tonight That I Might See, Cat Power's You Are Free and twice on Wayne Shorter's Speak No Evil. Coltrane's masterpiece Ballads is a hairy mess.
 What is the last impressive thing Vivian murdered?
My arm.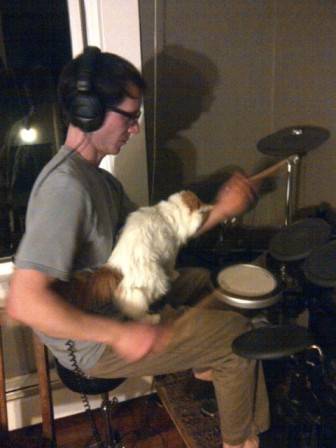 What does Vivian listen to when she is sitting around and feeling moody and misunderstood?
Anything by Catherine Wheel, Swervedriver, early Smashing Pumpkins, My Bloody Valentine, Nina Simone, John Coltrane, Archie Shepp, and old Allan Watts teachings.
When the shit hits the fan or when it's "Paw-Lickin'-Chickin" yet again…Â Diana Krall
Do you suspect Vivian is hatching any schemes at the moment?
She's 18. She's been over trying to get my attention for years now.
If you woke up in a weird Freaky Friday situation with Vivian what do you think her first move would be?
Bust into that well-guarded bag of "Calming" cat treats that she absolutely flips for and eat herself into a stupor. Then, knock back the entire bag of organic catnip but this time, open it first…like a any civilized person would do.
The Ludvico Treatment plays the Electric Owl Feb. 22 with Sex with Strangers and Phoenix Thunderbird.
RSVP here
The Ludvico Treatment's bandcamp page
Listen to The Ludvico Treatment's full-album cover of David Bowie's 1997's Earthling
Previously, on Bands with Cats:
Brett Threats (The Grave Life, Keep Tidy and Stress Eating)