Bands with cats – Connor from Peace and Courtney from The Courtneys + Fang
– by Cheena Jean Normandin
Your names: Courtney Loove and Connor Mayer
Your deals:Â Courtney (Fang's mom): guitar in The Courtneys and Connor (Fang's dad): bass in Peace.
What's your cat's given name?: Fang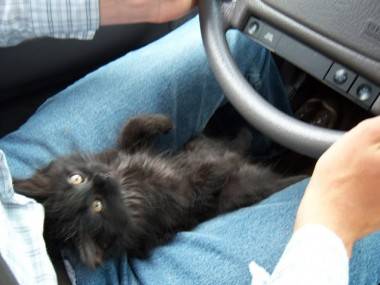 What's Fang's origin story?
Fang hails from the Edmonton ghetto. We adopted him from a friend whose cat had a pile of kittens. The kittens were all suuuuuper young and fragile but Fang felt a little meatier so we selected him out of the bunch. He's a big dude.
What's Fang's breed?
We believe him to be a Persian X of some kind.
Who feeds your cat?
We both feed him as much as he wants whenever.
What's your cat's theme song?
"Gin and Juice" by Snoop Dogg. Fang is a cat who thinks he's a dog.
Do you have reason to suspect your cat is hatching any incredible schemes at the moment?
Nah.
What's is the last book your cat fell asleep on?
Probably one of my sketchbooks.
David Bowie and Bob Dylan are sitting in the same room. Which lap does your cat pick?
David Bowie's. If he's good enough for the Muppets he's good enough for Fang.
If your cat had a super power, what would it be?
Camouflage.
What is your cat grooving on when you're not around?
Fang acts tough but we know he is a secretly a pussy. Let's just say I've found cat hair inside my Kate Bush record sleeves.
Where can we find your cat on a Saturday night?
Chillin', snacking, and partaking in the sacred herb (catnip).
Upcoming shows:
The Courtneys w/ Pack A.D. at the Rickshaw on February 21
Peace w/ Failing and Cowards at the Biltmore on February 6
Previously, on Bands with Cats: