Bands with cats – Village's Ina Vukmirovich
– by Cheena Jean
Person:Â Ina Vukmirovich
Band affiliation:Â drummer of Village
The cat(s)' given name(s): Porkchop (tortoise) and Tuna Monster (black)
What's your cat's origin story? 
Porkchop came as a package deal with the boyfriend. Tuna has a dark past. She was initially a rebound cat after our previous second cat went missing. We wanted a friend for Porkchop to keep her company while we're at work (poor planning, they still hate each other). Tuna's previous owner was a little old lady who only ever owned black cats, and Tuna was found in the apartment after her owner died. She was at the New West shelter for seven months; since she was black, we figured she would have a harder time getting adopted than the other cats there, so we took her.
Ironically, a couple of weeks later, a virus broke out at the shelter and wiped out the majority (26!) of the remaining cats. Tuna creeped us out at first, especially when we would wake up in the middle of the night and find her face right next to ours, staring, unwavering, unblinking, *too* calmly. She also lost all her fur in the first couple of months and would only sit in one spot on the bed, day and night. We're cool now though.
What's their breed?
The kind they stock in shelters: domestic shorthair.
Soft food or hard food?
Porkchop has a discerning taste for hard food, the junkier the better. Tuna has a snaggletooth, so soft food is easier for her to chew on. However, it has to be just the right temperature, flavour, texture and shape (not too flat, not too formed).
What's are your cats' theme songs?
Porkchop: "The Chicken Dance"
Tuna: "All By Myself"
If your cats were watching Netflix, what would be the last couple movies watched?
Porkchop loves romance and stories of unfulfilled love set in exotic destinations. Vicky Cristina Barcelona is a favorite. Tuna prefers something edgier but humorous. She was last spotted having a good laugh during the end sequence of American Psycho.
Do your cats have a favourite genre of music?
Smoooooth Jazz… And Cannibal Corpse.
Are your cats the "sitting at windows and staring longingly at the outside world" sort, or are they the "pouncing and destroying vermin" sort?
Whether inside or outside, Porkchop only does sprawling, pooping and throwing up. Tuna still spends most of her time sleeping in one spot, but she can't pass up a good romp outside. We suspect she may have been responsible for the giant dead bird in our garden. She's not above a calm pounce-and-destroy.
What are your cat doing when you are sleeping?
Porkchop likes to do gymnastics on my pillow and pull my hair while trying to lick those hard-to-reach areas. Tuna used to wield her power over us at nighttime. I'd just be falling asleep and would hear her coming like a mosquito, closer and closer until her face hovered just next to mine. I'd open my eyes and she would be staring into them, like she was stealing thoughts from my mind. Then came one lick, on the cheek, nose, lips or eyeball. She's more relaxed now, so she finally just cuddles. Of course she and Porkchop like to take up the most awkward spots on the bed so I end up sleeping in a weird Z formation and with two square inches of blanket for coverage.
Village's super hot 7″ Stranger Thoughts" is coming out in a couple of weeks  and you can
RSVP to their Village's release party over yonder: https://www.facebook.com/events/315428491932021/
Plus you can fall in love with their music over here:
http://villagevillage.bandcamp.com/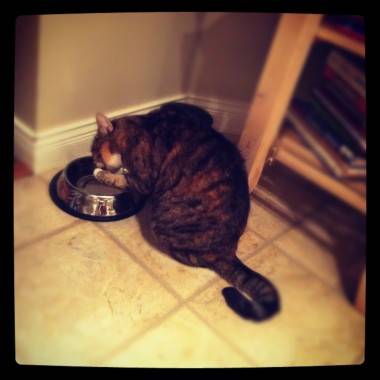 Previously, on Bands With Cats: