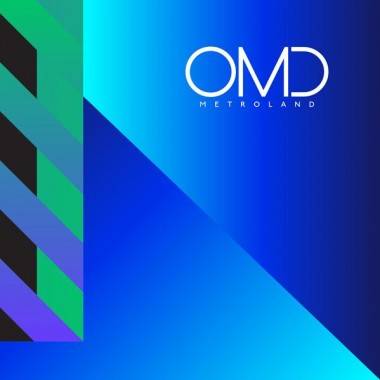 OMD's first video for English Electric
OMD kick off their 2013 North American tour at the Commodore Ballroom in Vancouver April 5, just four days before the release of their new album, English Electric.
The lovable UK synthpop duo of Paul Humphreys and Andy McCluskey has just released the first video from the album, for the song "Metroland".
Video – OMD, "Metroland":
The video was created by animator Garan Rushton and directed by David O'Byrne. McCluskey says of the video: "London's Metropolitan Railway sold a dream 'Live in Metroland.' So many people were encouragedto move out of the city center that the open fields they fled to became vastswathes of suburbia. The very act of reaching for Utopia led to its destruction."
English Electric was written, recorded, produced and mixed by McCluskey and Humphreys. It's being called "a grand return to form for a band whose 1980 hit "Enola Gay" occupied the world's stage at last year's Olympics Opening Ceremony."
Highlights, besides the first single, include "Kissing The Machine", composed in collaboration with early influence Kraftwerk member Karl Bartos.
McCluskey says of the album, "The overarching feel tends to be a sense of loss, of melancholia, that things haven't turned out the way you wanted them to, whether it be with technology or personal relationships." The title itself – taken from a British industrial manufacturing company – has further resonance for the pair as locomotive enthusiasts and self-confessed technology geeks."
This is the follow-up to 2010's History of Modern and the band's 12th album to date.
The tour features the original four-piece lineup, including McCluskey, Humphreys, Malcolm Holmes and Martin Cooper. Toronto act Diamond Rings is supporting OMD on all of these dates except for Mexico.
OMD 2013 North American tour dates:
April
5 – Vancouver – Commodore Ballroom
6 – Seattle, WA – The Showbox @ The Market
7 – Portland, OR – Wonder Ballroom
10 – Salt Lake City, UT – The Depot
12 – San Francisco, CA – The Regency Ballroom
14 – Indio, CA – Coachella
15 – Los Angeles, CA – The Fonda Theatre
18 – Mexico City, DF – Teatro Metrpolitan
21 – Indio, CA – Coachella
July
11 – Toronto, ONT – Danforth Music Hall
12 – Philadelphia, PA – Union Transfer
13 – Washington, DC – 9:30 Club
15 – Boston, MA – Paradise Rock Club
17 – New York, NY – Terminal 5
19 – Toronto, ONT – Daforth Music Hall
20 – Detroit, MI – St. Andrews Hall
22 – Minneapolis, MN – Varsity Theater
23 – Chicago, IL – Metro
http://www.omd.uk.com/