Editorial – down and out in Vancouver
– by Shawn Conner
There's something deeply wrong with this city, and I'm not sure it can be fixed.
After living here for 23 years – half of my life – I am coming to the conclusion that Vancouver's glory days have come and gone.
I say this not with an old fogey's nostalgia for the good old days (which I was too dumb or too stoned to fully enjoy at the time anyway) but because of what I'm hearing.
The closure of the Vancouver Playhouse. The closing of the Ridge Theatre. The battle for survival of East Van's Rio Theatre (which only wants to be able to sell booze and show movies, not even at the same time). The housing prices that make it impossible for young people and couples to afford a home. The Rize condo development in Mount Pleasant (Tim Hortons was only the beginning.) Even the hockey riots; say what you will about it being the work of  a few bad apples from the suburbs, the riots were just a large-scale version of what downtown has become – a weekend playground for rowdy suburbanites.
More and more, Vancouver is a city run by developers for the very rich.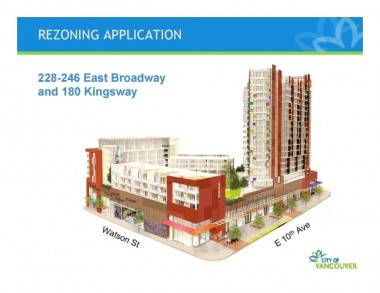 Culturally, Vancouver is bankrupt. We're barely holding onto the few remaining venues and artistic avenues we have. Toronto has always beckoned for the city's musicians, writers and artists, but never more so than now, with opportunities dwindling and rents sky-high.
In a few weeks, the TV series Real Housewives of Vancouver is going to premiere on the Slice Network. I have seen the first two episodes, and they are not pretty. I expect Vancouverites will turn away in disgust, even as they can't stop watching and discussing the excesses on display.
When I first came here, I didn't know what I was doing. I had very little knowledge of the city; all I knew was that it didn't snow, and that was good enough for a Winnipeg boy. In the early '90s, at the time at least, Vancouver seemed like a pretty cool place – affordable, somewhat, and full of people from other cities who'd come West for the opportunities to do things they couldn't back home. There was some sense too in the '90s of the city waking up to its potential, a self-awareness that this was, or could be, a great city. Vancouver was livable; it was even affordable. Downtown, and especially Granville Street, was a mess, but it had character. It was our mess.
Admittedly, I have no idea what it's like to be 24 (my age when I moved here) in Vancouver now. It's probably pretty good if you're a video game developer living in Yaletown; probably not so good if you're a musician or actor or anyone in an entry level job or just coming out of university. CIty councillor Peter Ladner was on CBC Radio the other morning, complaining that if all the young people left, who would make his latté? This man is an elected official (which is more than I can say for Christy Clark, whom no one voted for as premiere yet is still running this province).
Perhaps I'm just disheartened over what I perceive as the dwindling influence of what used to be one of the city's strong points, its arts and culture. Maybe theatre closures and condo complex attacks and unaffordable housing are just growing pains for the city. But I can't help thinking we've passed the tipping point, to use that already-clichéd term; the struggle for the Vancouver's soul is over, and those of us who wanted more from the city than a giant investment opportunity, have lost.
Oh well, there's still Wreck Beach – for now.