W2 hosts the a second anniversary edition of the Real Vancouver Writers' Series
– by Tania Chandler
The W2 Real Vancouver Writers' Series celebrates its second anniversary tonight (Tues, Jan 24) with a special evening of local literary talent. David Lester, Angie Abdou, Zsuzsi Gartner and more will give brief readings from their work and answer audience questions. There will also be music, a cash bar, raffles and giveaways.
Here's a brief rundown of the guests:
David Lester is a painter, graphic designer, cartoonist, and guitarist (in the rock duo Mecca Normal). His graphic novel The Listener reveals one of the world's most tragic acts of spin-doctoring while weaving a tale of art, power, and murder. AK Press Distribution ranked The Listener as #4 on its list of the 10 best-selling books of the year.
Fernie, BC's Angie Abdou's first novel, The Bone Cage, was praised by both The Globe and Mail and The Quill and Quire. It was also a finalist for CBC's Canada Reads 2011 and the 2011-2012 MacEwan Book of the year.
Vancouver writer Zsuzsi Gartner is a long time contributing reviewer for The Globe and Mail, and has received numerous nominations and awards for her magazine journalism. Her latest book, Better Living Through Plastic Explosives, was shortlisted for the 2011 Scotiabank Giller Prize.
Arley McNeney's first novel, Post, was shortlisted for the Commonwealth Writer's Prize, Best First Novel. McNeney is not only a writer, but an athlete; she has won numerous medals as a member of Canada's women's wheelchair basketball team.
Garry Thomas Morse is the recipient of the 2008 City of Vancouver Mayor's Arts award for Emerging Artist and has had numerous books of his poetry published, as well as a collection of fiction, Death in Vancouver. Minor Episodes, his second book of fiction, is coming later this year.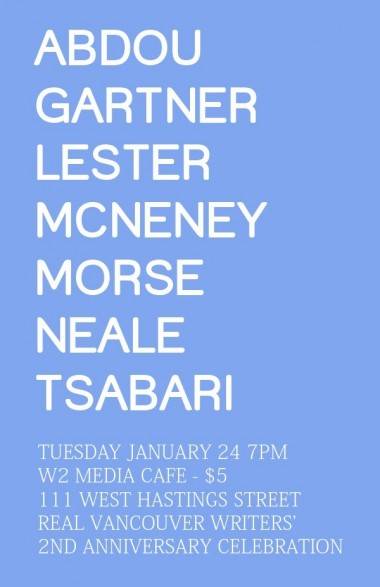 Jean Neale is an MFA student in the UBC Creative Writing program. Her short stories can be found in the collection Writing Without Direction and in OCW Magazine. She also edits and writes for Oxford University Press (China).
Israeli-born Ayelet Tsabari now calls Toronto home after living in East Vancouver for many years. Her collection of short fiction The Best Place on Earth will be out on HarperCollins next year.
The W2 Real Vancouver's Writers Series 2nd Anniversary takes place at W2 Media Café (111 W Hastings Street, Vancouver), Tues, Jan 24, 2012, at 7 p.m. Admission is $5.00 with all proceeds going to support future W2 programming and the writers who participate.