The year's best comics – Vancouver edition
– by Ryan Ingram
It's been a pretty great year for comics, no matter where your tastes in the medium lay.
There was a wealth of reprinted classics, new books by modern masters, and the continuing emergence of ultra-talented web cartoonists, as well as the release of some funnybooks that were actually gut-busting-ly funny. Even DC Comics managed to shake the dust off their capes and release a few genuine winners this year.
In fact, there was so much good stuff that came out in 2011, that when it came time to write the obligatory year-end "Best of" list, and looking at the gigantic stacks of books growing around my house – a lot of them still unread – I promptly freaked out, and begged someone to write this list for me.
Luckily, Vancouver is home to a crazy amount of smart folks in the comics industry who stepped up and offered their impeccable selections, as The Snipe attempted to distill this year's comics goodness into four categories:
-Â Â Â Â Â Â  Comic Creator of 2011: A creator whose output in 2011 blew your mind.
-Â Â Â Â Â Â  Best Comic of 2011: Hands down favourite thing published this year: graphic novel, ongoing monthly, mini-series mini-comic, web-comic, or anything else.
-Â Â Â Â Â Â  Best Reprint or Collected Comic: Something that was reprinted this year that will holds up — and more.
-       Overlooked  Comic of 2011: Something that may have snuck under the radar, and didn't get the hype and readership it deserves.
We were definitely expecting some much-deserved kudos to Kate Beaton, Big Questions and Fantagraphics' Carl Barks and Floyd Gottfredson's reprints (Donald Duck and Mickey Mouse, respectively) to pop up in this list. But there was a slew of interesting selections that we weren't familiar with, and that have now been added to our ever-increasing "to read" pile.
[And a huge thanks to everyone who helped with us put together this list.]
Rebecca Dart (RabbitHead and Battle Kittens):
– Comics Creator of 2011: Local Vancouver phenom Emily Carroll continues to knock socks off with her beautiful web comics and illustrations. She rocketed to Internet stardom last year with her comic His Face All Red and has maintained her loyal following by continuing to produce evocative and creepy comics. Check out her work here.
– Comic of 2011: Hairshirt by Canadian artist Patrick McEown. An outstanding hardcover, full-colour graphic novel about love and life. Amazing art, story, and colouring, it's the complete package.
– Best Collected Edition or Reprint: The Horror! The Horror!: Comic Books the Government Didn't Want You To Read. This one is a bit of a cheat, because it actually came out at the end of 2010, but I didn't pick it up until 2011, so there! A collection of '50s pre-code (if you don't know what this means, please ask your local comic nerd) horror stories that were originally censored by the U.S. Congress, it's an interesting and entertaining look at censorship in America that proves our grandpas were just as weird as we are. Plus, it comes with a DVD of a 1955 TV special about the "evils" of comic books. We know… it's true.
– Overlooked Comic of 2011: Pope Hats by Ethan Rilly. Geez, Canadians sure are talented. Another Great White North gem, this time from Montreal. A subtly brilliant comic about a law clerk and her life. Check out Ethan's work here.
[follow Rebecca on Twitter @R_Dart and Tumblr: http://r-dart.tumblr.com/]
Ian Boothby (writer, The Simpsons Futurama Infinitely Secret Crossover Crisis, The Simpsons Comics):
– Comics Creator of 2011: J.H. Williams for his work on Batwoman. Stunning layouts and creepy, imaginative yet grounded story lines.
– Comic of 2011: All-Star Western. Moritat's art has been stunning and the concept of Jonah Hex in old Gotham City really works.
– Best Collected Edition or Reprint: Kate Beaton's Hark! A Vagrant. Do comics get funnier than this? Do comics with Louis Riel and Nancy Drew get funnier than this? Definitely not!
– Overlooked Comic of 2011: Reed Gunther. It's about a cowboy who rides a bear. What more do you need?
(@IanBoothby)
– Comics Creator of 2011: Chester Brown has been producing amazing work for years, and I think that Paying For It continues that trend with really fascinating and personal autobiography. This is a return of sorts to his works like The Playboy.
– Comic of 2011: Habibi by Craig Thompson is beautiful and touching with a very layered and complex story, a must read!
– Overlooked Comic of 2011: Jonathon Dalton published a collection of his amazing web-comic Lords of Death and Life and Steve LeCouilliard published Much the Miller's Son: Book 3. Both are fantastic! and both were funded with some of the last Xeric grants ever handed out by the Xeric Foundation. Fantastic books more people should be reading!
Steve LeCouiliard (Much the Miller's Son):
– Comics Creator of 2011: Emily Carroll, because she has such a mastery of mood and atmosphere. Her horror stories have the logic of fables and her fables have the ring of authenticity. She uses very innovative layouts that take advantage of the scrolling possibilities in web-comics. Also she has great taste in books.
– Comic of 2011: Habibi by Craig Thompson. Habibi does so many things right and it's the kind of graphic fiction (mature, long-form, beautifully crafted) the comics community needs a lot more of.
– Best Collected Edition or Reprint: Fantagraphics' complete Mickey Mouse newspaper strips boxed set. Floyd Gottfredson is one of the overlooked masters of the comic strip. Like Carl Barks, his work was always signed "Walt Disney" but his craft and storytelling brilliance shone through. Comic strips really don't provide much more pure joy than Gottfredson's Mickey Mouse.
– Overlooked Comic of 2011: I don't know so I'll just mention my own Xeric-winning but largely ignored book, Much the Miller's Son: Book 3 by Steve LeCouilliard.
Brandon Graham (King City and Prophet):
– Comics Creator of 2011: I was really impressed by what Emily Carroll has been doing; she seems to be really thinking about new ways to do comics.
– Comic of 2011: I really liked Patrick McEown's Hairshirt. I've been impressed by his short story comics in the past but I liked Hairshirt even more than I expected to.
-Best Collected Edition or Reprint: Q Hayashida's Dorohedoro is an incredibly fun manga.
– Overlooked Comic of 2011: Liz Suburbia's Sacred Heart is amazing.
[Brandon Graham on LiveJournal: http://royalboiler.livejournal.com/]
– Comics Creator of 2011: David Malki ! has my nomination for this; that guy is the busiest person in the whole world. He does his comic Wondermark in addition to working on Machine of Death and various other side-projects; and more than that, his work is extremely accessible – he connects to non-comic-readers and turns them into comic-readers in five minutes.
– Comic of 2011: Dylan Meconis' Family Man. This comic… is so good. So good. It's just – I can't even – so good.
– Best Collected Edition or Reprint: The two-volume collection of Floyd Gottfredson's run of Mickey Mouse, hands down! These books chronicle the glory days of the old-school Mickey Mouse comics when Gottfredson did both art and story (from 1930-1934).
– Overlooked Comic of 2011: Steve LeCouilliard's Much the Miller's Son. The artist is a local cartoonist and worth talking about; his style is very reminiscent of comics like Asterix, and it's brilliant. The third volume came out this year.
[Follow Vancouver Arts Festival on Twitter: @vancouvercomics]
– Comic of 2011: Bloke's Terrible Tomb Of Terror – It's a horror anthology done in the style of the old Warren magazines from the '60s and '70s. It's great fun the way comics should be, these kind of books need to stay alive! So far there is two issues out and they can be found at Indy Planet or at Mike Hoffman's web site.
– Best Collected Edition/Reprint: The Definitive Flash Gordon and Jungle Jim by Alex Raymond. IDW has been publishing some great collected editions of older comics material that are finally getting the treatment they deserve. Other books include Secret Agent X-9 by Al Williamson and Archie Goodwin, Rip Kirby also by Raymond and Terror by Bob Powell.
– Creator of the Year: Richard Corben seems to pop in and out of existence, more out than in for my liking. However this year Corben has done a few Hellboy comics and some other odd books that have been great. Here's hoping we see more from this comics veteran in the coming year.
– Overlooked Comic of 2011 – B.P.R.D. has been consistently good from the beginning.
[Follow RX Comics on Twitter: @RXComics]
– Comic of 2011 – Big Questions by Anders Nilsen. Over ten years in the making, Nilsen's magnum opus is beautifully drawn and is a surreal, captivating, and subtle exploration of humanity through the eyes of animals (mostly birds). Makes the case for "comics as serious literature" as few comics have.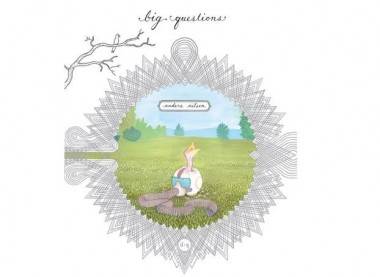 – Collected Edition/Reprint of 2011 – This has been a boon year reprint editions, but take your pick from Fantagraphics Books' amazing editions of Pogo by Walt Kelley, Donald Duck by Carl Barks, Mickey Mouse by Floyd Gottfredson, and Prince Valiant by Hal Foster. Fantagraphics has done such an incredible job on book designs, colors, paper… all of the details that make these editions glow.
– Creator of the Year – Kate Beaton. Beaton bridges the world of web and print comics with unprecedented success. Her Hark! A Vagrant book hit the top of the New York Times graphic novel bestseller list this year – who knew gags about Canadian history and English literature would be such a hit? Beaton knew! Her keen understanding of and relationship with her online fan base made the print version of her work a sure-fire winner.
[Follow Lucky's on Twitter: @luckysonline]