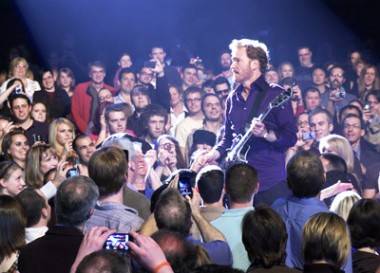 Documentary review – Conan O'Brien Can't Stop
– Julia Brown
Rodman Flender's Conan O'Brien Can't Stop is aptly titled. Much like O'Brien himself, this doc has a lot going on.
It's a behind-the-scenes glimpse of a comedy road-show, a look into O'Brien and his team's creative process, an examination of the entertainer's psychology and a mini-analysis of the entertainment industry.
The message that comes through loud and clear, though, is that, following his departure from The Tonight Show and troubles with NBC, the comedian is a man wrestling with his demons. The poor treatment he received from NBC, the loss of his dream job as host of The Tonight Show and older, more psychologically entrenched problems have contributed to his complicated persona.
Watching O'Brien go through that demon-slaying process is an enlightening look into what makes this popular talk-show host tick. Following his departure from The Tonight Show, O'Brien was prohibited from appearing on television for several months per his settlement with NBC. But, as the movie title suggests, he just can't stop. Whether it's being on stage, doing comedy, writing, playing music, working an audience, even being famous – these are things that are vital to who he is.
This drive comes across as a blessing and curse. When we see him and his team brainstorming for his post-Tonight Show tour (snarkily called the "Legally Prohibited from Being Funny on Television Tour"), he passive-aggressively goads members of his team to a higher level of performance, making jokes at their expense and generally being a bit of jerk (but a funny jerk, so it's presumably OK). Despite the fact that he knows perfection is impossible, he can't help but want the show to be perfect.
This tension seems to inform his every interaction – not only with his creative team, but also with his personal assistant, his management, his friends, his wife, and even his fans. One of the most egregious examples of his passive-aggressive tendencies occurs between O'Brien and a key member of his management team – Conan repeatedly punches the poor guy in the arm, playfully but hard enough to hurt, and follows it up by saying "Why am I always hitting people? It's unacceptable. You need to stand up for yourself!"
But boy does O'Brien entertain – constantly. Whether he is on stage, in the dressing-room, meeting-and-greeting fans, at his own birthday party, attending (and performing at) his 25th college reunion on his day off or just putting on his stage make-up in front of his personal assistant, Conan is always "on." But you get the strong impression that he resents his own nearly-compulsive need to always perform, always entertain.
Given the contradictory nature of the documentary's subject, it is tricky to suss out the film's underlying point. Is Conan O'Brien Can't Stop meant to show O'Brien as a victim of NBC and the fickle nature of the entertainment industry, or does the film illustrate that it's really his inability to simply stop that is mainly to blame for his suffering? Will die-hard fans of O'Brien respect him more after viewing the film, or will they lose their respect for him? Whatever you come away thinking about O'Brien as a person, there is no denying he works hard for his money.