Photos – Yelle at the Commodore Ballroom, Vancouver, May 13 2011
– photos by Ashley Tanasiychuk
Yelle on tour for their second album, Safari Disco Club.
The record is a follow-up to their 2007 debut, Pop Up. The band toured all over the world for three years in support of that album.
The French band is named after lead singer Yelle (Julie Budet), and is largely a collaboration between she and producer/co-writer GrandMarnier. Tepr (Tanguy Destable), a journalist before joining, is the keyboardist.
The Independent said of Safari Disco Club that the record is "essential for anyone who appreciates dancefloor-friendly European synth pop." Singles include the title track, "Que veux-tu" and "Comme un enfant".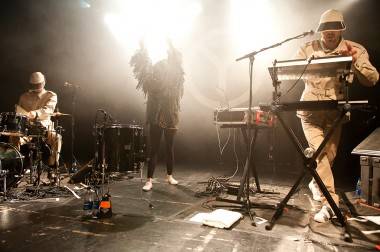 More photos: