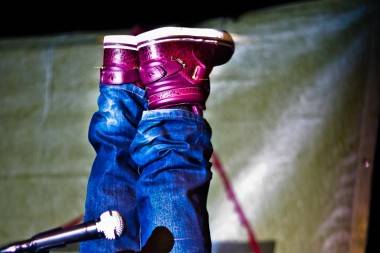 Preview – USS at the Media Club, Vancouver, May 24 2011
USS (Ubiquitous Synergy Seeker) is currently on tour in support of a new EP, USS Approved. Photog Ailsa Dyson caught the Toronto group, known for the incredible energy of its live shows, in Winnipeg at the Royal Albert Arms.
The band plays the Media Club in Vancouver tomorrow night (May 24).
More USS concert photos:
USS tour dates:
May 23, 2011 – Penticton, BC @ The Barking Parrot Bar
May 24, 2011 – Vancouver, BC @ Media Club
May 25, 2011 – Nanaimo, BC @ The Queens
May 26, 2011 – Courtenay, BC @ Avalanche Bar & Grill
May 27, 2011 – Tofino, BC @ The Tofino Legion
May 28, 2011 – Victoria, BC @ Sugar Nightclub
May 29, 2011 – Whistler, BC @ Garibaldi Lift Company
May 31, 2011 – Prince George, BC @ Third Avenue Music Venue
June 1, 2011 – Grande Prairie, AB @ Better Than Fred's
June 5, 2011 – Canmore, AB @ The Drake
June 9, 2011 – Thunder Bay, ON @ Crocks
June 10, 2011 – Sault Ste. Marie, ON @ LopLops