NXNE Day III recap - White Cowbell Oklahoma at El Mocambo, Toronto, June 18, 2010
– text by Shawn Conner/photos by Robyn Hanson
9 p.m. Tried to see Ghost Bees at the Gladstone Hotel, but a lineup of "priority pass" holders deterred us. Too bad, since the twin sister act from Halifax is quite good… oh well, onto the next thing.
11 p.m. White Cowbell Oklahoma at El Mocambo. What is it with Toronto cab drivers? None of them know where the hell they're going. Even when told the exact address they're like, "Huh?" What's more, isn't it up to them to know that huge swaths of city streets are closed?
Anyway, enough bellyaching; my first time seeing White Cowbell Oklahoma after hearing much about the band's live show was well worth whatever it took to get us to the El Mocambo. Chainsaws, sparks, gyrating dancers, and Jagermeister poured into the eager baby-bird-like mouths of audience members recalled (for this writer) the glory days of the Beat Farmers. Granted, White Cowbell Oklahoma doesn't quite have the tunes, but what it lacks in indelible melodies it makes up for in sheer debauchery and white-star-emblazoned blue jumpsuits.
More White Cowbell Oklahoma at El Mocambo photos:
11:45 p.m. Catl at the Comfort Zone. In what looked like an impromptu set-up – on the floor a few feet yards from the stage in this darkest, dingiest of bars – Toronto's Catl (lead singer/guitarist Catl, keyboard player/percussionist/singer Sarah Kirkpatrick and drummer Johnny LaRue – banged out a beard-sizzling set of raucous Southern-tinged rawk.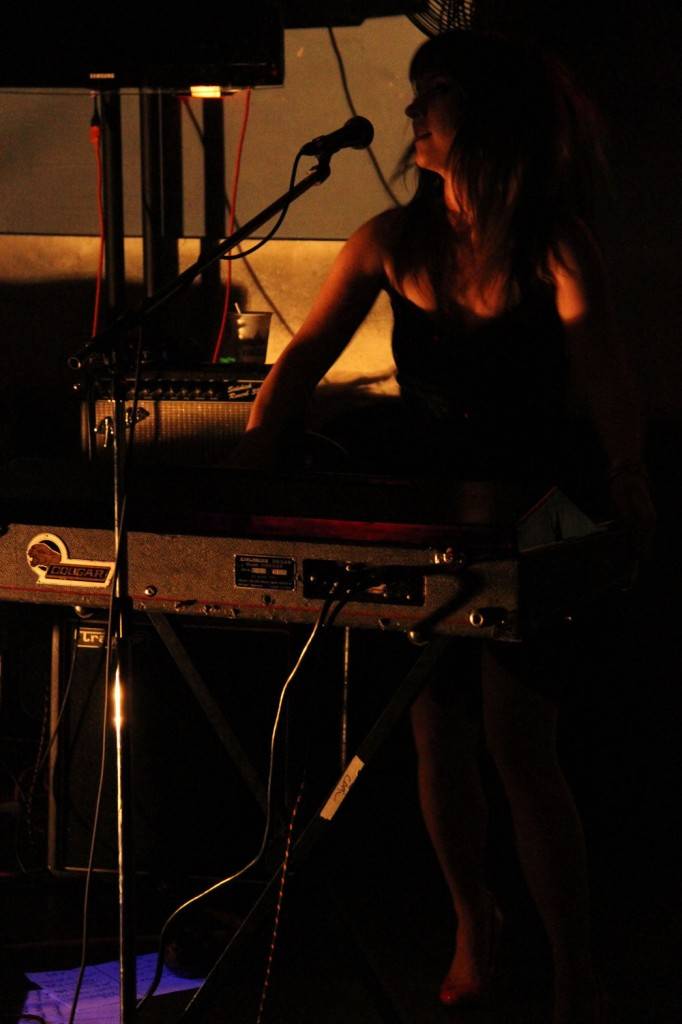 A nice little surprise leading up to…
12 a.m. The Two Koreas. Might have enjoyed this band if, 30 seconds before they went on, someone hadn't informed me nearly every dude in the group is a critic of some kind – movie or music. After that I couldn't help thinking they sound like a band made up of music critics. Smart arrangements, with heavy Iggy and the Stooges and the Fall influences (i.e. no melodies to speak of), and lots of energy, especially on the part of the lead singer, but the songs seemed to go on and on.
1 a.m. The Rival Boys at the Painted Lady. The idea was to see Winnipeg's Boats, but (after a burlesque dancer did her thing on top of the bar) a trio called the Rival Boys tore into its set of strong, roaring pop, led by vocalist/bassist Lee Rose. As much as I was anticipating Boats, the Toronto band was one of those pleasant music festival discoveries that will have me keeping an eye out for a future Vancouver date.
2 a.m. Spirits at Sneaky Dee's. The Kitchener/Hamilton band has an unerring way of calling up old Duran Duran with Ian Smith's guitar sound and riffs, while singer Brad Germain does his best Bryan Ferry/Simon LeBon. The trio's best song, "When the Sun Gets In My Eyes" – a tune steeped in Brit-rock songcraft circa mid-period Simple Minds and Echo and the Bunnymen – came third song in; but the rest of the set was just as enjoyably dance-y.