Interview – Rachel Flotard of Visqueen
– by Shawn Conner
Her father used to ask, "How many bites of a shit sandwich do you gotta eat?" Now, Rachel Flotard knows the answer.
Flotard has been fronting Visqueen since 2001. In 2003 the Seattle band released its debut, King Me, and followed up a year later with Sunset on Dateland. By then, she – along with her sister – was looking after her father George; the Flotard daughters had flown him out to the Pacific Northwest from his New Jersey home.
The sisters nursed their dad for the better part of seven years; after he died, Rachel Flotard was naturally bereft, at loose ends. She went with a Laotian friend to his home country, which offered a whole new perspective on life, not to mention the music industry. Reinvigorated, she returned home and began working in earnest on what would become the third Visqueen album, Message to Garcia.
Perhaps not surprisingly, considering the fact that much of the record was hewn in the fiery furnace of personal tragedy, it's a terrific album, full of crunchy, melodic rockers, no-bullshit ballads, Flotard's killer voice, and a thrashy, scrappy never-say-die spirit. (According The Stranger's David Schmader: "The title comes from Elbert Hubbard's 1899 essay – a celebration of the quiet heroism of people who get the job done, and the only book Flotard's voracious reader of a father ever physically pushed on her.")
Flotard put the record out herself, on a label – Local 638 Records – she named after her father's steamfitters' union local; one reason for going the DIY route was the question posed at the top of this article, a question asked frequently by her dad when his daughter would complain about the music biz.
We reached the singer/cat-lover at home after she'd found out an album she'd sung on, Neko Case's Middle Cyclone, had received a Grammy nomination. As well, the night before, Flotard had held a benefit, Footlaos, to raise money to help build a floor in a Laotian schoolhouse.
She has one Visqueen show, the Deck the Hall Ball at Seattle's WaMu Theatre Dec. 15 with Muse, Metric and superstars 30 Seconds to Mars, before she heads to back to Laos (her flight is booked the day after). Then, if everything goes according to play, Visqueen will go on a big North American tour in the New Year.
Shawn Conner: So what is your connection to Laos?
Rachel Flotard: I went there last November. I had the opportunity to go with a friend who's from there, so I got the local's-eye view. I was kind of out of my mind at the time. When the thing that you're caring for for seven years is gone, you're just lost. You don't know what to do with yourself. This is before I'd really finished the record. Everything had taken a back seat. So this trip came about at kind of a perfect time.
We stayed in the village where his cousins and aunt live, with no indoor plumbing, where they were literally catching and killing the food they eat. I was terrified. I'd never really been to a Third World country, and I went with the intention to scare the fuck out of myself. But in a good way. I never felt unsafe. You feel kind of more safe. The people were amazing to me. It just gives you another perspective and another way to look at life, to look at the race we keep up with, that keeping up with the Joneses mentality. I really connected with the women, the aunt and nieces, who were my age, and their daily life is so much different. Everyone's got their own boat, you can't walk around constantly thinking about your problems.
SC: So with a new album just out, is this a good time to be leaving the country and going back?
RF: No! But I'm trying to book tours for next year, and the music industry kind of shuts down around Christmas time. So I figured, while I don't have shows booked, and while I'm still continuing to try and blow my little megaphone that we exist and want to come and play, why not? I've been working very hard on getting this record out, pushing it forward, talking about it. I need a perspective change again.
SC: How did the original trip affect the record?
RF: It didn't have anything with the way it turned out musically, I just had the energy to finish. I wrote a lot of the music and tracked almost all of it while my dad was still alive. Really it all came together when I finally got a wild hair after New Year's last year. I went to Laos in October, November, and by New Year's Eve I'd decided I've got to finish this thing. It's not just making the record, it's getting my band to a place where we can tour. That's the goal for me. I want my job to be every night walking out and playing for people. Laughing and playing songs. I had to really commit to the fact. I want this to be a good part of my life. And it takes work to make it move.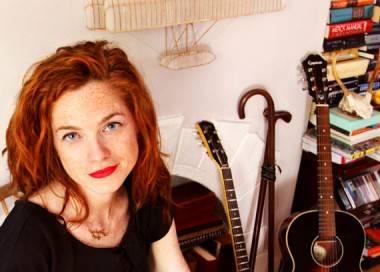 SC: I like that quote from your dad, "How many bites of a shit sandwich do you wanna eat?"
RF: I would come home, just feeling like crap when I was being twisted into doing something. I was being turned down over and over for a label or something. And he would say that, and I'm like, "Wait a minute, none."
Releasing it myself comes with its own stresses and its own craziness. I think right now our record is going further than it ever would if I just gave it to someone who didn't care about it. I'm scared, I'm scared. But I have faith in my friends and my band mates. The big piece of the puzzle is to find bands we want to play with.
Video – Visqueen, "Hand Me Down" (live at the Tractor Tavern, Seattle 24.10.09):
SC: Do you identify strongly with your working class roots?
RF: Yeah, I do. Of course I do. My mom was a registered nurse, my dad was a steamfitter. We lived comfortably because of those two. My dad, his fingers looked like tree knots, but they worked hard to make sure we had whatever we needed, like if I had have a backpack for school or whatever. That does something to you. I think. I want to try and apply the same kind of thing to music. But as much as they were working-class, hard-driven ethical people, they always encouraged us to follow our dreams and hearts. At the end of the day you have to be fulfilled. They wanted us to live better than they did. Because of them, I'm literally singing for my money. Not many people can say that.
SC: You wrote an advice column for awhile. [Flotard wrote for the website Three Imaginary Girls]. I'm just wondering, what qualified you to give others advice?
RF: Zero. It became a complete venting, an outlet for jokes. It was just something that kind of started. I am not someone who should be giving love advice. I should be in therapy. But I do love a good joke. I love a nice pun, and I do love to write. I would get these hilarious questions.
SC: In David Schmader's The Stranger article about you, he notes that you are known for your "freewheeling stage banter". Is there anything you've said onstage you've regretted later?
RF: Oh my God. You don't have enough digital space on your recorder! But not really… One time when I said, "How's it going West Virginia," while I was in Virginia, and that started the why-don't-we-write-what-city-we're-in-down-on-the-setlist. Virginians don't like being called West Virginians. I'm sure there's been stuff I've said that I've regretted. Certainly there's been gross stuff.
SC: Some oversharing?
RF: There's been some oversharing. But I feel sometimes that just brings people closer. Usually it's about myself, or my drummer Ben [Hooker], who gets the super-brunt of my wrath, purely because he's hilarious. Although sometimes it gets a little gross, after playing a furious song, he'll come over and come up behind me and wipe his armpits on my face.
SC: And I wanted to ask about Visqueen opening for my favourite band ever, Guided by Voices.
RF: We opened up for them at Bimbo's 365 for Noisepop in San Francisco, and Kim Warnick [former member of Visqueen and long-standing member of legendary Seattle proto-pop-punk band the Fastbacks] got to sing "Glad Girls" with them and we did it again a few times after that. I mean, we pretty much stormed on the stage whether they liked it or not.
The worst time was when they played at the Showbox [in Seattle]. "Glad Girls" is just one of those songs, if I've had a glass of champagne, it sets off some sort of freak button in my head. I remember running onto the stage, and I felt what I thought was someone patting my back, but which was in fact a security guard who just missed grabbing me by the collar. We got up and sang it anyway.
And I remember one time, backstage at the Crocodile, they were all peeing in bucket.