Review and photos – The Pretenders at Malkin Bowl, Vancouver, Aug 26 2009
– review by Jenn Laidlaw/photos by Jessica Bardosh
Getting to a six o'clock show across town after work is a pain in the ass, especially when you are dying to see the opener. In a cab about a block out from the outdoor Malkin Bowl in Stanley Park, I can hear Juliette Lewis screaming from the stage.
Lewis, perhaps known more widely for her roles in Natural Born Killers, Kalifornia and What's Eating Gilbert Grape, has been ripping up stages since 2003 as Juliette Lewis and the Licks (the Foo Fighters' Dave Grohl played drums on their second album).
Having recently dropped the Licks and about to release a new album, Terra Incognita, Lewis is wrapping up what she refers to as "summer camp" with Cat Power and the Pretenders. Sporting white prom gloves, a feathery shoulder piece and knee pads over leather pants, I could swear Lewis borrowed her look from my childhood dress-up bin, but goddamn she made it look good.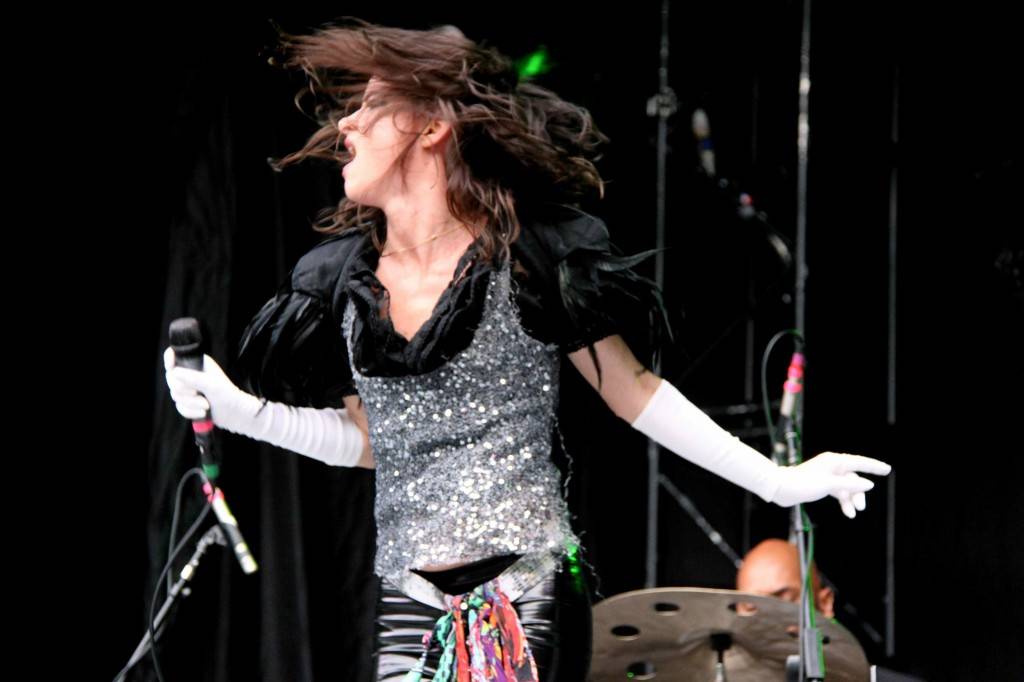 In between the screams, wails and frantic energy-driven flails across the stage, Lewis' voice and style was vaguely reminiscent of Etta James' blues standards of the '50s and '60s. For an actress-turned rocker chick, her 30-minute set was the surprise highlight of the night.
With a small crowd gathered in front of the stage for the high-energy set, Lewis saucily taunted the placid blanket crowd, calling out "I hate seeing you lying down there like you're watching TV. I give a little, you give a little. That's the deal." Returning to Vancouver in October to play a show at the Commodore Ballroom, she will likely attract the raucous crowd she is used to, now that we've had a little taste.
In contrast, Cat Power, born Chan Marshall, is known for two things – her smoky, haunting vocals and a history of emotionally explosive stage tantrums and breakdowns, chocked up to a combination of stage fright and one too many drinks. Rumours of the latter can have the affect of either completely turning you off or making you extremely curious. Already deeply in love with her raw, fragile sound, I was deeply curious – and deeply disappointed.
Perhaps the stage fright aspect ruled the evening, but this performer of over a decade seemed oblivious to her audience. No hello, barely any eye contact and not a breath of sound between songs. She sang, sipped her drink and meandered back-and-forth across the stage – great voice, great talent, but I'm sorry, I could have just stayed home and listened to her on my computer.
It was an incredible energy drop following the zany Lewis. Fortunately, the act almost old enough to ride the bus free brought the energy back up. Chrissie Hynde must do yoga, because within minutes of walking out onto the stage in her thigh-high boots, this soon-to-be 58-year-old was doing karate kicks and bends that would make North Vancouver yummy mummies sweat.
Opening with her newest title track "Break Up the Concrete", Hynde's trademark voice of three decades was unwavering. Flanked by bassist Nick Wilkinson and guitarist James Walbourne, both maybe half her age, Eric Heywood on the steel slide guitar and founding Pretenders drummer Martin Chambers, Hynde gave the crowd exactly what they had come to see – lots of classics, with some new stuff mixed in here and there.
Highlights included "one for the fans" as the band kicked into "Back on the Chain Gang", a cover of Chip Taylor's pop hit "Angel of the Morning" (recorded by the Pretenders in 1995 for the Friends soundtrack album), numerous explosive guitar rants by Walbourne, whose gleeful grin mirrored that of the entire crowd, and Hynde twisting across the stage in her purple tuxedo jacket.
At one point the vegan and animal rights activist abruptly finished a song as a waft of grilling meat floated up from the food shacks.
"Sorry, I just got cut off by the smell back there. I don't know about you meat eaters… but, go fuck yourselves!!!!" she screamed. An hour in, the Pretenders left the stage briefly, to return for a three song encore.
"You want something cheesy, a little trite?" Hynde laughed, breaking into "Brass in Pocket". "Obviously, or you wouldn't be here."