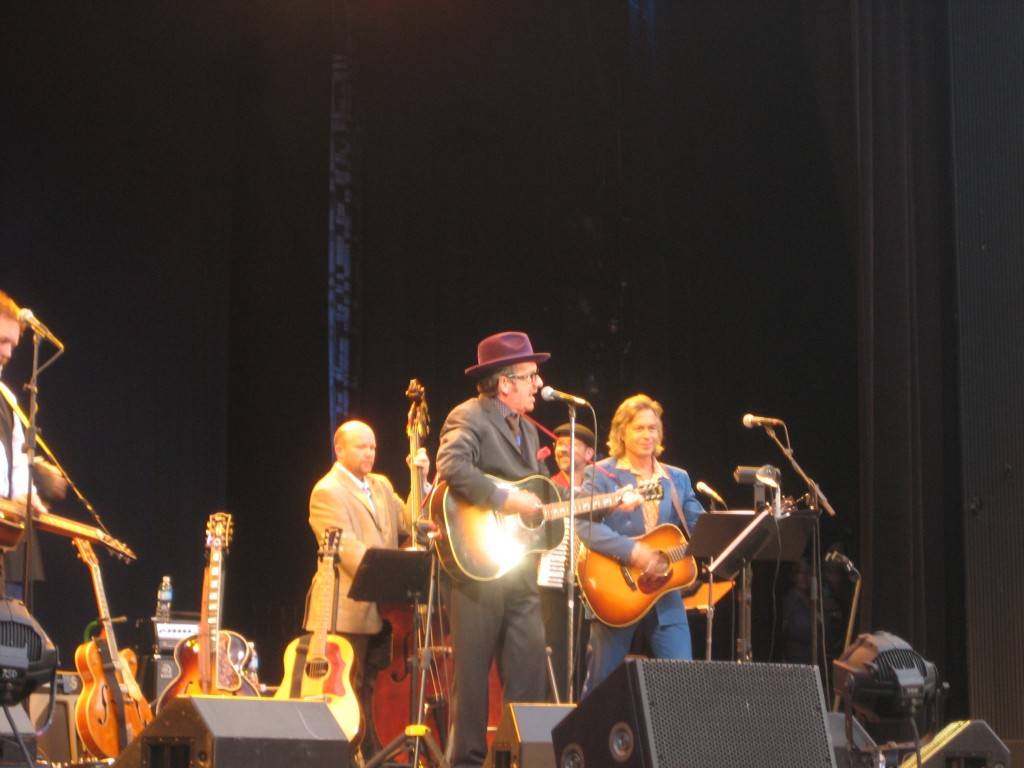 Review–Elvis Costello at Malkin Bowl, Vancouver, Aug 24 2009
– by Shawn Conner
"We're the Sugarcanes," Elvis Costello said more than once this evening, and point taken; there were moments he seemed like just one of the band, when the six side-players – no drums, no keys, just stringed instruments and an accordion – threatened to overshadow the boss. Jerry Douglas on dobro played so brilliantly it was as though sparks were coming off his instrument; Jim Lauderdale's backup vocals were heaven-sent, and Stuart Duncan on violin is  definitely no slouch. The playing was as much a part of the evening as Elvis's voice. And those songs…
"Blame It On Cain". "(The Angels Wanna Wear My) Red Shoes". "Mystery Dance". "Brilliant Mistake".
Yet even with so many of his own to choose from, Costello seemed more than happy to play covers. Early in Monday night's set, outdoors at the Malkin Bowl in Stanley Park in Vancouver, the maestro reached back to Almost Blue, his 1981 album of country covers, for "Tonight the Bottle Let Me Down" (and followed, appropriately enough, with "Down Among the Wine and Spirits" from this year's Secret Profane and Sugarcane).
There was a zydeco version of "Don't You Lie to Me" ("Bet you didn't know Chuck Berry wrote hillbilly songs," he said after), and a killer rendition of the Rolling Stones' "Happy". Elvis even opened with "Mystery Train", by Elvis.
But no one was fooled, it was the Elvis show all the way. And so, in the deepening shadows of a rapidly cooling summer's night, we settled back and patiently indulged the man on the eve of his 55th birthday in songs like "She Handed Me a Mirror" and others based (he said) on the life of Hans Christian Andersen.
We were of course waiting for memory bombs like "Indoor Fireworks" (here in a sultry country version), for "Everyday I Write the Book" (gospel-tinged thanks to Lauderdale's gorgeous backups), for "Brilliant Mistake" (beautifully enhanced by Douglas' dobro line), for "(The Angels Wanna Wear My) Red Shoes" (which was mentioned early and came later), even for a smouldering "The Delivery Man" (here in all its noir glory).
The casual fan was rewarded with a couple of "hits" in the encore, "(What's So Funny 'Bout) Peace Love and Understanding" and "Alison". The latter Costello spun into Jim Reeves' hit "He'll Have to Go" ("Put your sweet lips/A little closer to the phone"). And sometimes the newer songs, including "Complicated Shadows" (considerably more rocking live than on CD) and the Randy Newman-esque "Sulphur to Sugarcane" made you forget the wealth of great older material he could've been dipping into.
"It's good to be home," our hero said a couple of times, reminding us that he's set up house (with wife Diana Krall) in Vancouver. Dude, it's good to have you. Now, can you do "Pump It Up"? No? How about "Radio Radio"? Maybe next time? "New Lace Sleeves"?
Oh, all right. Do another Hans Christian Andersen song then. It's your night…