Review – Band of Skulls at the Media Club, Vancouver, June 14 2009
– by Shawn Conner
There's something to be said for a band with only one album to its credit (and that record available only digitally, until September). Unless it's influenced by Phish, most extraneous fat is going to be absent from the show. A friend believes 65 minutes is the optimum set time, no matter how great the act; I'd say 35 sounds about right.
Band of Skulls, a relatively new outfit from Southampton (that's in the UK, yo), filled that time with bluesy, violently classic-rock sounding tunes from its debut, and even got the erstwhile hit – "I Know What I Am" – out of the way early on, in fact the second song in.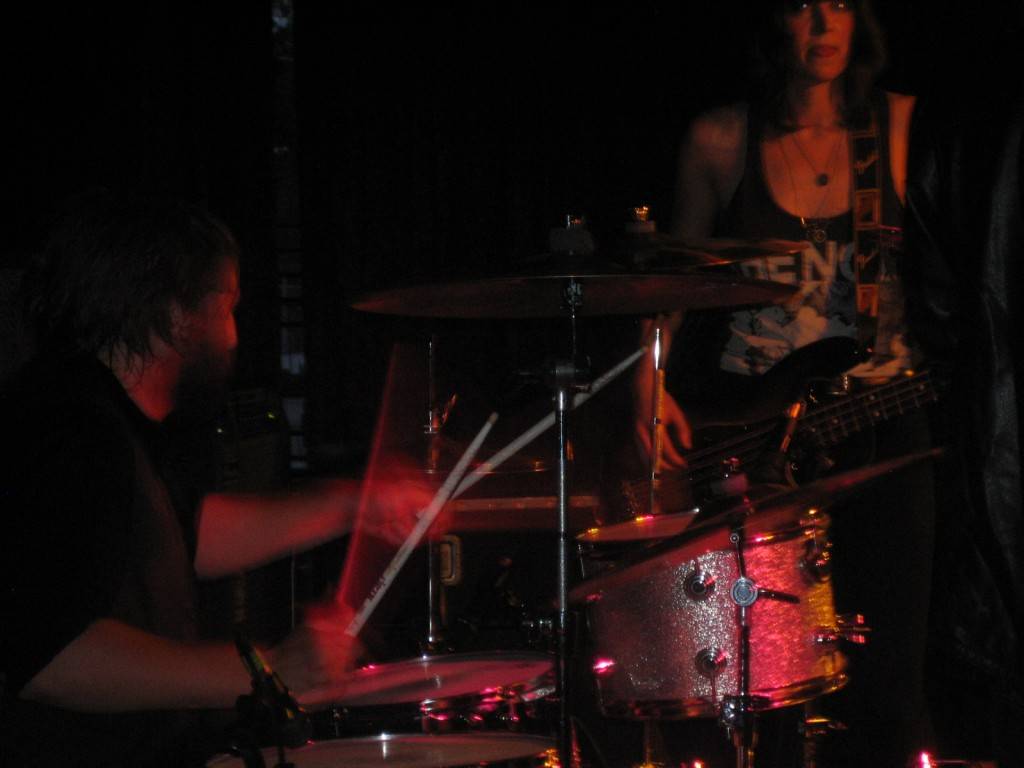 It was thanks to that stompin' rocker that there was anyone at the Media Club, a room that holds maybe 150 souls comfortably, in the first place. (By the end of the band's set – at 9:30! the place was full-ish.) A couple of people said they'd heard the song on the local FM rock station; someone else was familiar with "I Know What I Am", from iTunes, where it was a single of the week. Welcome to the face of music buzz, circa 2009.
Guitarist/vocalist Russell Marsden (whom I mistakenly called "Russell Brand" in another piece I wrote for a local paper, whoops!) and drummer Matt Hayward locked in tight from the opening chords – the two have been playing together forever – but black-banged bassist Emma Richardson kept up with her hirsute bandmates and added her voice to a couple of the tracks, including verses on the hit.
Marsden, I was happy to see, wore red socks – always a sign of sartorial elegance – and duct tape held together one of his guitars. At the end, after the obligatory but nonetheless necessary guitar freakout, we were left winded but sated. Hopefully, Band of Skulls gets huge and make at least one more decent album, so all of us at the show last night will have bragging rights.
The Blue Violets opened; led by Coral Osborne, daughter of 54-40 frontman Neil Osborne, the group's Mazzy Star-ish pop psychedelia was a little too subdued for my tastes. They looked darn cute, though, like a folk-pop group from central casting: a blonde-banged female guitarist and a black-banged female bassist flanked Osborne, while in the back a dude drummer and dude guitarist did, I don't want to say all, but some of the heavy lifting. A few faster songs couldn't hurt the Blue Violets one bit, and I'd volunteer my sitar-playing skills, if I had any.