Review and photos – Metric acoustic at the Pyramid Cabaret, April 20 2009
– review by eugene osudar/photos by Mike Latschislaw
metric acoustic kinda night monday (i don't like mondays, boomtown rats) Pyramid april 20.
interesting that i freely (ss)ociate the boomtown rats and metric because two very danceable pop bands heavy on the keys and fun/fun/fun and i guess if you were female in 1980 bob geldof's ass was s'mighty fine to gaze upon and certainly emily haines squatting before my male gaze is a wondrous(ly) sight to be(hold),
if you're a guy, a single guy go see metric on the acoustic tour, goo(g) their website and get on the free ticket list, and go/go/go and ga/ga/ga and, gaze, the pyramid was packed and 70% were females of the gorgeous kind tix were free it was an early show, 7:45 pm (promised 7:30 start) and done by 8:27 no encore. 8 songs. lighting effects, think The Conformist-era Bertolucci and if you haven't seen this film, shame on you and if you haven't seen Last Tango In Paris shame on me and if you haven't seen, all the films of Bertolucci well, you're missing some extraordinary soul,breath,kissing.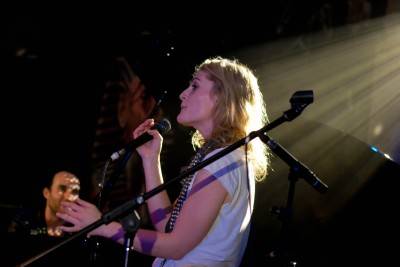 emily's beautiful. her fans adore her. they're young. Metric makes me dance. just like The Boomtown Rats made me dance and i love dancing therefore, i love Metric. however, Emm Gryner. there's a woman who rocked my soul playing solo at the WECC last year all by herself guitar and piano songs stripped down naked emm gryner writes sings songs that move sun moons stars
metric songs stripped down naked are exposed, with the band and her energy and their energy oh so high energy, that is to say, i prefer the band to the acoustic. "gold guns girls" "help, i'm alive" "twilight galaxy" one of the surprises of the evening, the women in the audience and those especially standing in the front row pressed tight to the stage true adoration gazes for emily! O Sweet Harmonious Voices! ! ! my deities, what harmonies! chilling! thrilling me, i wanted to meet this metric choir keep singing! form bands!
Winnipeg needs another 20 great bands, i need to dance every night of the year! emily sang the praises of guy maddin, telling a story of being in argentina when guy's Saddest Music in the World film played and hundreds of argentines flocked to see this wonder of unconventional moving pictures the impression these argentines would have of canada seeing a guy maddin film! o, My (Guy Maddin) Winnipeg! see, Bernardo Bertolucci somehow fits into the poem, everything has meaning! she spoke of playing the unconventional metric is dis/inclined to be relaxing in laurels and here, acoustic chances.
brave! courageous. slipping in a pink floyd cover and some tease, "I am going to try to not crowd surf." which of course, we all wanted the hands on emily haines experience of emily sent her loving vibrations to my winnipeg, and these hundreds loved her monday night acoustic Pyramid show. emily: "i think we're going to do – " "Every song you've ever written!" a female voice in the crowd shout (s) out out out out (Pyramid Wednesday night, dance party!) and a deafening roar from adoring fans, loving emily. you're beautiful.