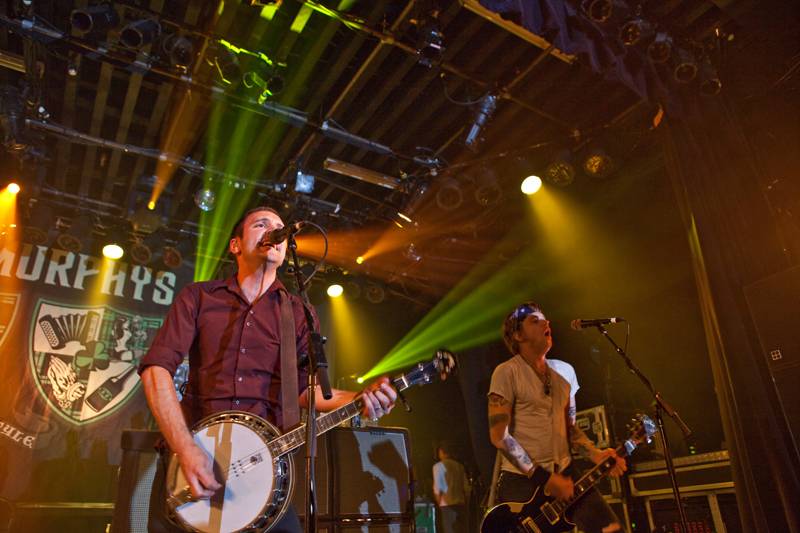 Review and photos – Dropkick Murphys at the Commodore Ballroom, Vancouver, June 25, 2011
– review by Carrie Swiggum/photos by Graeme Foote
If you didn't smell like sweat or booze by the end of the show, then you weren't there, or maybe lucky enough not to get spilled on.
The Dropkick Murphys played two-sold-out shows at the Commodore this weekend. This is the music barroom brawls are made up of, and the abrasive, power-pop, Celtic punk group didn't let up from the first song to the last.
With their honey-sweet vocal harmonies and acoustic string melodies, the opener, The Parkington Sisters, were the calm before the storm.
Chuck Ragan, former punk-rock Hot Water Music singer, now on a solo project playing more folk-inspired ballads, sang his throaty-voiced heart out for a crowd that took him in their arms and welcomed him like the main act.
The crowd was amped from the beginning and were chanting "Let's go Murphys!" through the night with as much enthusiasm as if they were cheering in Game 7 of the Stanley Cup.
If a city can claim a soundtrack, the Dropkick Murphys would be to Boston what breezy balls are to a kilt-wearer or what green beer is to St. Patrick's Day.
The curtain opened for the main act and the stage was dark except a glowing kick drum, with a big B for Bruins lit up while "We are the Champions" blasted from the speakers.
If there was a safe place to wear a Bruins jersey in Vancouver, it was at this show. Singer and bassist Ken Casey took the opportunity onstage to rub in Boston's victory.
"From the bottom of my heart – fuck you," he said, " and threw out a cardboard cut-out of the Stanley Cup into the crowd."
There was no shortage of jigging or 250 lb. dudes crowd-surfing or in your face Bruins mania.
It wasn't all about hockey though. The Dropkicks released their seventh full-length album this past March, Going Out in Style, and continue to pick up fans wherever they go.
Of course, they sang their biggest hit (with over 18 million views on youtube), "I'm Shipping up to Boston," to round out the evening.
More photos: