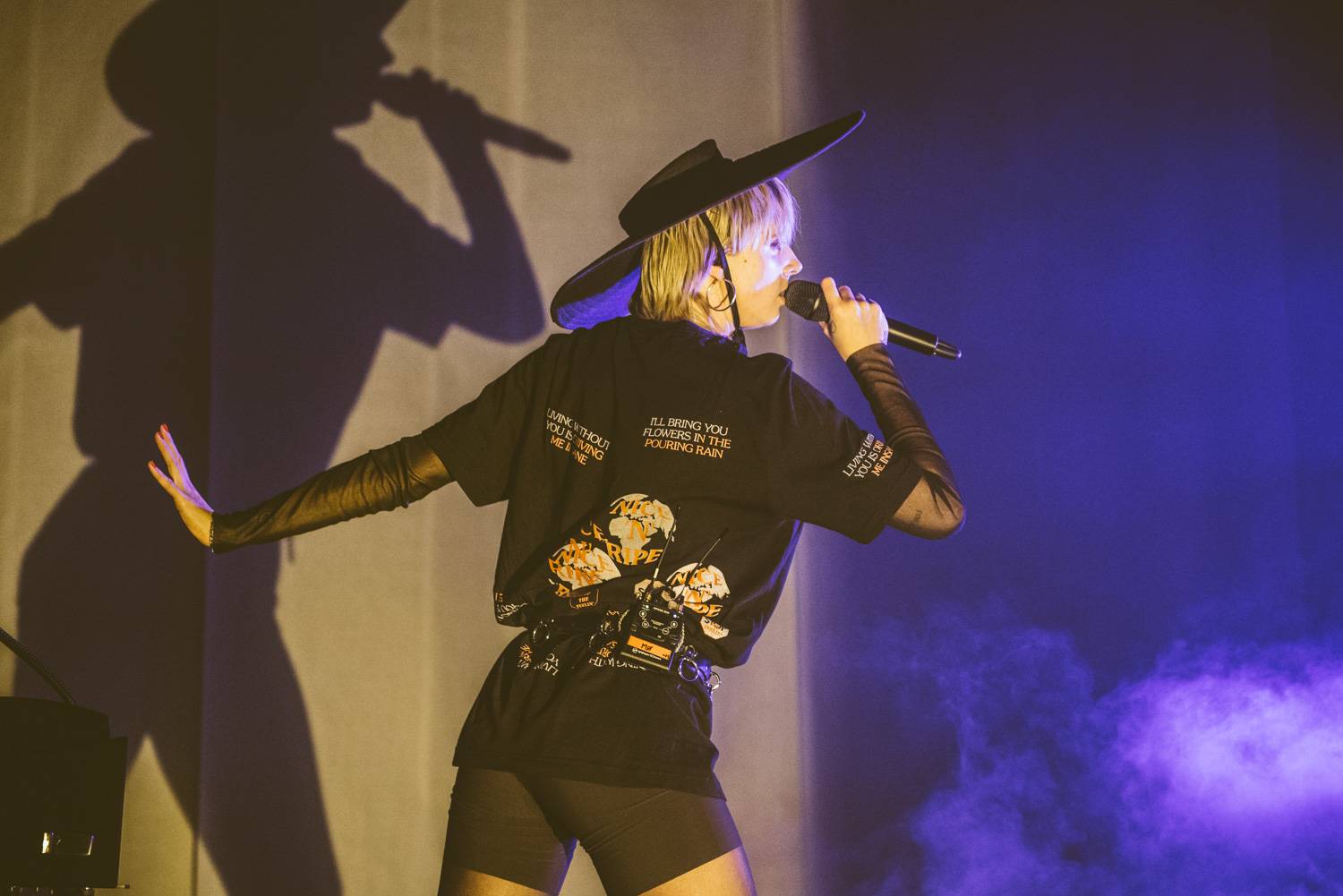 Review and photos – MØ at the Commodore Ballroom, Vancouver, Jan 30 2019
– review by Julie Rankin, photos by Pavel Boiko

With balloons floating overhead and a plethora of cellphones glowing above the crowd, an energetic audience joined singer MØ for the chorus of the Danish singer's hit collaboration with Diplo, "Kamikaze." As she and her band danced and chanted, "Take me to the party, Kami-Kamikaze," it was clear–this was the party to be at.

MØ, AKA Karen Marie Ørsted, released her second studio album Forever Neverland in 2018, four-and-a-half years after the release of her debut No Mythologies to Follow. In the intervening years, she became known for some impressive collaborations with artists and producers, including Major Lazer.
She just wants to spend the nights with you, Vancouver
The stop in Vancouver on her current North American tour is a notable one. Working with producer Stint, Ørsted wrote many of the songs on the new album in the city. During Wednesday night's show, the singer said that "just the vibe of the city reminds me of the album." While singing her 2017 single, "Nights With You," she added, "I just want to spend the night with you–Vancouver!"

MØ began her set with the downtempo "Purple Like the Summer Rain." She wore a wide-brimmed black hat, a feminine accessory that contrasted with her belted t-shirt, black Dr. Martens, and overall punk aesthetic. She quickly ditched the hat as she launched into her signature style of spirited electro-pop. Not your typical singer/songwriter, MØ offers a compelling mix of catchy dance tracks, unconventional love songs, and empowering anthems.
MØ pushes boundaries, drinks a glass of red wine

One to push boundaries, MØ left the sanctity of the stage and moved through the crowd to the back of the dancefloor. Here, on an unassuming, small stage, the pop star performed "Red Wine" while having a glass of her own. Dancing her way back through the audience she launched into Forever Neverland's lead single, "Nostalgia." Slowing things down, MØ took a break from her usual peppy performance to play the piano for the emotional "Mercy."

After a full set ending with another hit collaboration, "Lean On," MØ returned to the small stage for her encore. A treat for those at the back of the ballroom was a more intimate serenade before the singer headed back through the crowd to the main stage. Closing the night with the aptly titled "Final Song," MØ ended the party to reverberating cheers and a quick surf over the roaring crowd before the final lights went down.

LA-based LPX opened the show with a selection of alt-pop songs from her 2018 release Bolt in the Blue. The co-owner of Neon Gold Records and lead singer of MS MR, she filled the dance floor with an energizing solo performance.