Photos – Emma-Lee and the Julian Taylor Band at the Horseshoe Tavern, Toronto, Feb 15 2015
– photos and text by Jess Desaulniers-Lea
Emma-Lee at the Horseshoe Tavern in her hometown of Toronto Sunday night. The Julian Taylor Band headlined.
Singer/songwriter Emma-Lee may be best known for her tribute to the man she calls her biggest inspiration, "What Would Tom Petty Do?" The 2014 single is peppered with Petty quotes, and comes with a hook-laden chorus: "Yeah, Bob Dylan's cool/But what would Tom Petty do?"
Video – Emma Lee, "What Would Tom Petty Do?"
Previous to that tune, Emma-Lee recorded and released two albums, 2008's Never Just a Dream and 2012's Backseat Heroine.
Jess had this to say about the Sunday night's show, when both acts played to a full house.
"When Emma-Lee stepped on with a full band and wearing a cropped red leather jacket, a long fringe skirt and newly black dyed hair there was no doubt we were about to witness her rock n' roll side. With co-writer and keyboardist Karen Kosowski at her side, she played a rock-blues set, often donning an electric guitar.
"Her new material showcased how amazingly accomplished a singer and songwriter she is, and how she can command a stage in an instant no matter the setting.
"Julian Taylor followed with a band that included two horn players. Along with some newer material and older songs, he did 'Take Me To the River'. The soul classic featured his band soloing throughout the song. After what was close to a two-hour-long set, the crowd was still buzzing when the Julian Taylor Band left the stage, and demanded not one, but two encores.
"The two acts couldn't have been better paired. Both brought arena-size energy to the small tavern with a sound that could have filled a venue five times the size."
More Emma-Lee photos: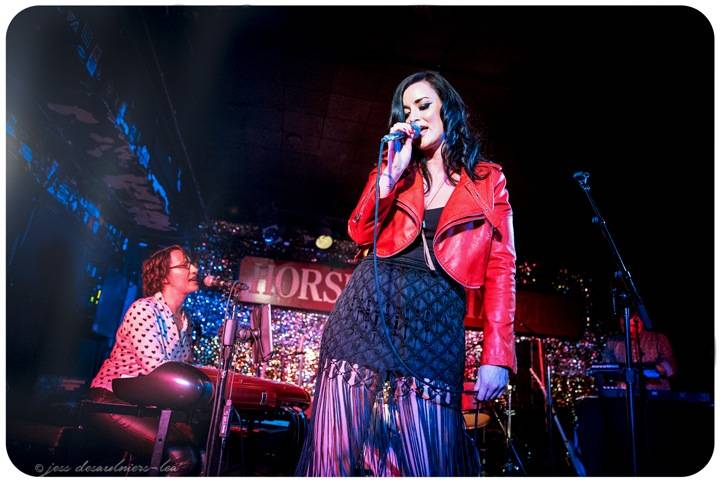 Julian Taylor Band photos: