Photos – Ani DiFranco at Danforth Music Hall, Toronto, Feb 2 2015
– text/photos by Jess Desaulniers-Lea
Ani DiFranco in Toronto on Monday night. She is touring in support of her latest album, Allergic to Water. Anais Mitchell (who is on DiFranco's Righteous Babe Records label) opened.
Snipe photog Jess Desaulniers-Lea, currently based in Toronto, writes: "Her set included mostly songs from her very first self-titled record along with new material from Allergic to Water, but she also played two new songs, one of them barely two weeks old! In between were songs from her acclaimed Dilate and Not a Pretty Girl albums.
"I've seen her live nearly 15 times and I've never seen a more loyal audience of listeners, and it was no different last night with a standing ovation even before her encore, in which she sung one of her most intimate songs 'Both Hands' off her debut (1990) followed by one of her most known songs, '32 Flavours' from Not a Pretty Girl." In the latter, DiFranco "had the audience sing backing vocals to close the show."
DiFranco  was accompanied by drummer Terence Higgins and her long time stand-up bass player Todd Sickafoose.
"As always she seemed comforted by being on Canadian soil and expressed her being particularly 'overwhelmed' these days by the cultural climate in America," Jess says.
During the show DiFranco mentioned that her mother is Canadian. "She urged the audience to retain what she feels is a 'palpable feeling' each time she is in Canada of a graciousness and a kindness, and not to lose that as she fears we've learned 'some tricks' from our U.S. neighbours" – reference, Jess says, to "the recent shootings in Ottawa, among other things."
Jess adds, "I've never seen another performer with more ease on stage and with an audience. When you see Ani DiFranco, you never see the same thing twice. Her transparency as someone who is evolving, acting and reacting, creating or contemplating is always present and inherently genuine."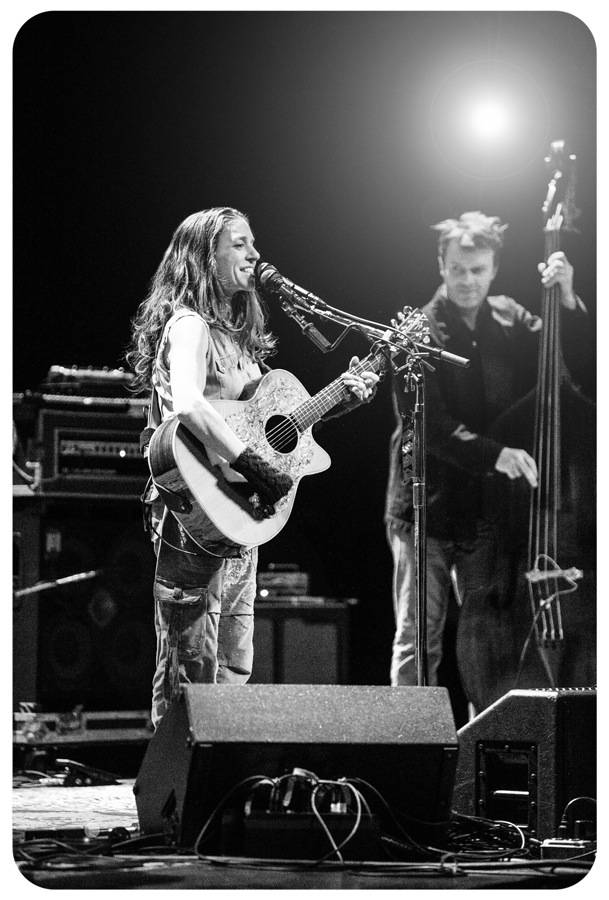 Anais Mitchell opened the show. Her 2014 album Child Ballads, recorded with fellow acoustic guitarist Jefferson Hamer, won a BBC Folk Award for its take on ancient songs and ballads of England and Scotland.