Bands with Cats – Lupus' Matthew Roblin with Milo and Bronson
– by Cheena Jean Normandin
Your band(s) and role:Â I play bass and do backing vocals in a punk band called LUPUS.
What are your cats' names?
Milo=the orange tabby. Bronson=Maine Coon.
What are your cats' origin stories?
Milo was found in a bush by a friend of mine along with two other kittens all guessed to be about three months old (they all ate solid food and were litter trained obviously ditched) so I took one and friends took the other two.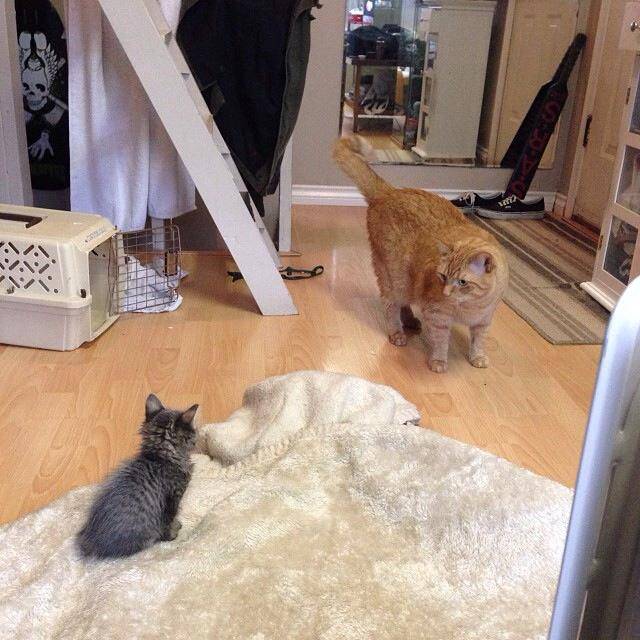 Bronson was acquired from a friend who's cat became pregnant and had kittens and she was unable to care for all of them so she wanted to find good homes for them all when they were of age, so I offered to take one. I went to her house to see all the kittens and automatically he bonded with me. Walking up to me and cuddling me and eventually falling asleep in my lap while all the other kittens were more interested in mother's milk. So eventually I took him home with me and him and Milo bonded and are the best of friends.
Who feeds your cats, and what do they eat?
I take responsibility of feeding my cats most of the time. My housemates fill in when I am out of town some weekends. They mostly eat Whiskas or Purina.
What do you think your cats' theme songs are?
Milo is an extremely relaxed cat and he loves the sun so I am gonna go with. "In the Summertime" by Mungo Jerry.
Bronson is quite young and still a ball of destructive energy so I'm going with, "Baiting The Public" by Fucked Up.
What is the most impressive thing that your cats have murdered? Â 
Milo managed to kill a wasp once without getting stung. Bronson killed like three iPhone chargers.
What is the last book your cat fell asleep on?
I tend to keep my reading material out of reach of my cats. But Bronson did sleep on my Underwater Welder comic by Jeff Lemire recently.
If your cat sees a GIANT spider, what is its course of action?
Milo = play with it until it dies.
Bronson = kill it then eat it.
What is the last incredible feat that your felines accomplished?
Milo jumped off my loft bed and caught a moth in flight and killed it. Bronson walked across my computer keyboard and locked it in French.
If your cats threw a raging party, what would be on the playlist?
"Honey In The Hair"-Blackbird Raum