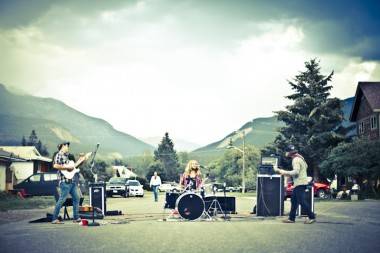 Stellar Radio Club to play Media Club as part of March tour
-by Shadi Maceac
There are few bands that can authentically channel the psychedelic sound of the '60s and '70s, but Stellar Radio Choir does, and make it sound effortless.
The band, which is comprised of Eric Larocque on guitar and vocals, Todd Menzies on bass and Ben Caldwell on drums and vocals, will play their second Media Club show on March 22. The appearance is part of their March tour alongside Kelowna singer/songwriter Devon Coyote.
Stellar Radio Choir was the CFOX 99.3FM featured artist of the month for November 2011. The band will debut their music video for their latest single "Confessions" at the Golden Film Festival.
Watch – Stellar Radio Choir featuring Mobina Galore, "Confessions (Of A Paranoid Schizophrenic)" (Green Couch Sessions):
Stellar Radio Choir Twitter
Stellar Radio Choir Facebook
Stellar Radio Choir tour dates:
March 15th – Fernie @ The Royal with Devon Coyote
March 17th – Golden @ Winston Lodge with Devon Coyote
March 18th – Banff @ The Beaver Bar with Devon Coyote
March 19th – Calgary @ The Gateway (SAIT) with Devon Coyote
March 21st – Revelstoke @ The Big Eddy with Devon Coyote
March 22nd – Vancouver @ The Media Club with Devon Coyote & Mobina Galore
March 23rd – Kamloops @ Dirty Jersey with Devon Coyote
March 24th – Kelowna @ Doc Willoughby's with Devon Coyote