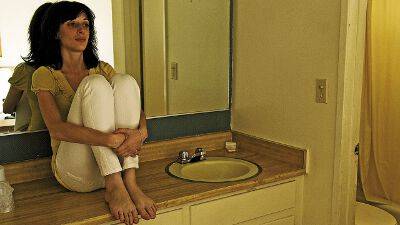 VIFF reviews – Inside Lara Roxx
– by Julia Brown
Mia Donovan's Inside Lara Roxx is the kind of documentary that makes you feel a bit guilty for watching. Part of the guilt stems from the fact that the film deals with the topic of porn, a subject that is repeatedly depicted in a sensationalized way. But the film is also uncomfortable because Lara Roxx herself is so raw and vulnerable – it is as if you are peeping inside something you shouldn't.
The film documents five years of the life of Roxx, a Montreal native who decided at the age of 21 to make some quick cash in LA by doing porn, and wound up contracting HIV during one of her very first shoots. After her story is exploited by the international media for the requisite 15 minutes, Lara's life begins a downward spiral, with Donovan's camera capturing Roxx's drug addiction and her mental breakdowns.
The tension is evident in the relationship between the film's subject and the filmmaker: Donovan and Roxx are friends, yet the dynamic of filmmaking means that there is a power imbalance there as well – an imbalance that Roxx openly articulates in one scene, when she questions whether Donovan will still want to be her friend once filming is done. And while this lack of trust on Roxx's part is understandable, considering what she has been through at the hands of the porn industry and the mainstream media, it also highlights the fine line between exploitation and ethically telling a real-life story in documentary filmmaking.
There is also a kind of tension inherent between the audience and the subject. At the VIFF screening, for example, it was interesting that the audience had many more questions for Mia Donovan than for Lara Roxx herself. It was almost as if we the audience already knew too much about Roxx.
Overall, however, the tension and ambiguity in this film is its biggest strength, because it forces you to examine your own discomfort and even perhaps a few of your prejudices and assumptions. It may not be that comfortable to go inside of Lara Roxx's life, but you will likely learn a few things you do need to know.