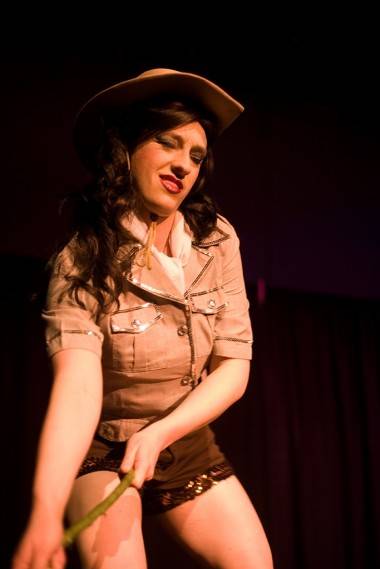 Review and photos–Vancouver International Burlesque Festival 2011 at the Rickshaw Theatre, Vancouver (May 6 2011)
– review by Rachel Langer/photos by Jason Statler
Friday was the second night of the Vancouver International Burlesque Festival 2011 and, unlike Parliament, the women held the majority of the seats.
Sure, there were many gentlemen in attendance, ready and willing to drool over the overt sexuality oozing from the women on the stage, but most of them were accompanying ladies. A lot of the crowd was filled with groups of gals out to let loose and have a good time; and let loose they did. The night was full of catcalls and cheers, proving that burlesque is an interactive artform.
The first show featured a barrage of local dancers performing in a historical memoir of dance numbers called "One Night At The Cave". It was hosted by Jack Card, who narrated between each number from the perspective of one who had experienced Vancouver's burlesque heyday, when The Cave, and later Izzy's Supper Club, were the places to be for gentlemen looking for a show.
The dancers performed numbers accompanied by a six-piece jazz band, and occasionally a singer. The performances ranged from Chicago-esque '30s-style glitz to free-spirited (and baring it all) flower child performances from the '70s.  Vancouver burlesque royalty Burgundy Brixx performed twice, stealing the show with her patented moves to the Commodores' "Brick House". Moving through Vancouver's history of burlesque, featuring vintage costumes, colorful narrative, and elegant talent, was interesting and sexy.
The best thing I learned about burlesque is that curves "ain't no thang". In fact, they're welcomed, and sexy! All shapes and sizes of dancers adorned the stage when Seattle's Sinner Saint Burlesque troop took the stage for a series of numbers connected by a fabulous science and nature narrative. The numbers included everything from interpretive dance to sizzling pole props, and one tantalizing wardrobe malfunction. The Seattle troupe, fresh off the road from a London Tour, showcased professionalism and some incredibly skilled (and obviously well-trained) dancers.
The women in the audience wore everything from jeans and flats to corsets and glittering high heels. There was even a giant chicken sitting behind me for a time. Seeing these shows opened my mind to the idea that burlesque is not solely an alternative art form. It is a skilled medium capable of both charming audiences with sensual, smart moves, beautiful costumes, and empowering women everywhere to embrace their uniqueness and utilize what they've been given.
Burlesque is about feeling good and looking great. I am impressed by the work and energy put into the shows we were able to attend, and would encourage you to saddle up and take a ride down the sequined trail, whether as a couple, a group of friends, or solo. I promise you one thing, you will not be bored.
More photos from Night 2 of the 2011 Vancouver International Burlesque Festival:
Night 3 of the 2011 Vancouver International Burlesque Festival: