Star Trek fashion throughout the years: highs and lows
– by Michael Kissinger
Considering the ill-fitting jogging pants, pilly bathrobes and pleated stonewash jeans worn by Star Trek fans in their everyday non-Trekkie-convention-attending lives, one could be forgiven for assuming the Star Trek franchise is a lost ship, aimlessly floating through the fashion universe.
The truth is Star Trek has always blazed a stylish path and distinct fashion sense influenced by cultural forces of the day right here on earth, from Gene Roddenberry's original television series to the most recent product launch, the cleverly titled Star Trek. Here's a brief overview of Star Trek's bold, sometimes mystifying wardrobe trajectory throughout its history. Cue the theramin.
Star Trek (original series, 1966-69) – With their tight, form-fitting polyester shirts, black capri pants (or were they culottes?), knee-high boots and gogo-dancer mini-dresses, the crew of the USS Enterprise were definitely a product of the swingin' '60s. William Shatner actually had abs for a brief period and the green-skinned, scantily clad Orion Slave Girl would become the most masturbated to mental image for a generation of sci-fi geeks until Princess Leia sported a bikini and leash in Return of the Jedi. Fashion highs: Lt. Uhura's silky gams, Yeoman Janice Rand's wheatstack hairstyle. Fashion lows: Spock's bowl cut.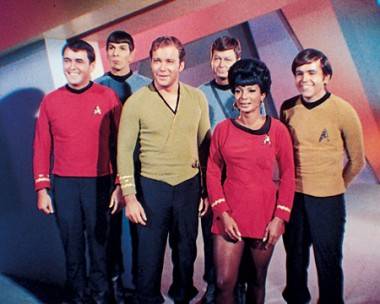 Star Trek: The Motion Picture (1979) – Ten years after the original series ended, Star Trek: The Motion Picture hit the big screen and took on some unfortunate New Age-y overtones in the wardrobe department. With earthy colours, wimpy necklines and billowy textures, the crew's uniforms looked like a cross between an episode of Golden Girls and a feminine hygiene commercial. It's a wonder they didn't start calling the Enterprise's deck a lanai. Highs: bald headed Lt. Ilia, Shatner's hairline. Lows: prevalence of beige.
Star Trek II: The Wrath of Khan (1982) -Â  After Star Trek's wussified, Zamfir-friendly film debut, Kirk and co. thankfully grew a pair, donning militaristic burgundy uniforms, with a distinct early '80s vibe that would later be appropriated by Janet Jackson on her 1989 Rhythm Nation tour. By this time, Shatner and the rest of the cast, except for a surprisingly fetching Kirstie Alley, were starting to pack on the pounds, but the bold, clean lines and square shoulders did wonders. On the other hand, Ricardo Montalban as Khan and his raggedy Mad Max-ish gang appeared to have jumped right out of Helix's post-apocalyptic "Rock You" video. Not necessarily a bad thing. Highs: slacks with a slimming stripe down the side. Lows: Montalban's mullet.
Star Trek III: The Search for Spock (1984) – The Star Trek crew hits its fashion zenith during Search for Spock. Maybe because it was directed by wild man Leonard Nimoy. Whatever the case, the outfits were breathtakingly erratic, from suede-jackets, trench coats and capes seemingly raided from the Decemberists' closet decades before they were even a band to multi-coloured robes and key-party-appropriate lounge wear. Highs: Shatner's blue, Doug Henning-esque jumpsuit. Lows: Shatner's TJ Hooker perm/weave.
Star Trek: The Next Generation (1987-1994) – Like the apathetic era in which it was made, Star Trek: The Next Generation lacked a distinctive style. Some outfits looked like futuristic hockey jerseys, while others incorporated sashes and frumpy Paula Poundstone jackets. And the black polyester pants and jumpsuits? Two words: ball sweat. Highs: Geordi La Forge's new wave-y eyeware. Lows: Wil Wheaton's oversized, orange, shaker-knit sweater.
Star Trek: Deep Space Nine (1993-1999) – If What Not To Wear existed when Deep Space Nine was in full swing, Clinton and Stacy would have been all over their bland asses. Not only were their uniforms misshapen and top-heavy, they did nothing to elongate the wearers' torsos. Or something like that. Highs: nice, sensible footwear. Lows: purple and black, together at last.
Star Trek: Voyager (1995-2001) – Except for Jerry Ryan's buxom Borg drone character, there was nothing overly remarkable about the duds worn by the crew of Starship Voyager. Comfortable, practical, it's what your parents might wear if they lived in the future and were celebrating their 30th wedding anniversary before returning to their pressurized sleeping chamber for a night of unenthusiastic, passive-aggressive fornicating. Highs: Ryan's form-fitting body suit. Lows: shoulder pads.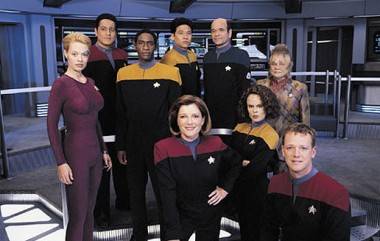 Star Trek (2009) – A chronicle of the early days of James T. Kirk and his fellow USS Enterprise crew members, the new Star Trek movie comes full circle, fashion-wise. Back are the blue, red and yellow form-fitting shirts, albeit with a modern touch of Mountain Equipment Co-op approved moisture wicking fabric. Kirk also sports a ribbed sweater combo that looks like it came from an LL Bean catalogue and should be called the Mariner or Nordic Wanderer. Highs: more attention to fit. Lows: no Orion Slave Girl [editor's note: she might not have been a slave, but there was definitely a green-tinted babe in the movie].