-photos by Dallas Ludwick
i haven't written anything
since Clues
bummed me out,
in a supreme fashion
fashion is transitory
(wo)mandatory
(s)exploratory
what is in and out
i haven't a Clue(s)
last night, waiting
to see if i was in or
out (i wasn't in) for
the TV On The Radio
show, which Lynne says
was Very On and she's
a trusted rock n roll soul,
stir
i met a young man
who loved the Clues
show. and embarrassed
by the audience of
winnipeg; the jeering
and sneering at
show's end
"maybe i was the only
one who liked them?"
says he.
he wasn't alone
however,
he wasn't in the majority
but who wants to be
in fashion
constantly?
dissent
minority
rights
know them
speak them
Loudly
in the fashion
what is tribute
what is hack
John Hak is the man
on a mission to dance
and celebrate beautiful
women, and beautiful
musicians
mike says he likes it when
i stay in focus
Remain In Light
but this is streamed
Talking Heads
conscious/ness
Dirty Projectors
(Lynne says she heard
they weren't very good,
and that's the band
i wanted to see last night,
tammy K thought they blew
and she was there)
i'm un/forgiven
and
no apologies
Husker Du is the best
band you've never heard
I Apologize,
where is the Husker Du
tribute show?
my mission,
is to find myself
healed and whole
and Holy F#ck(ed) again,
beautifully blooming
into the sunflower
i am
i am
81 full sets of music
in (dis)May
Live and Holy
and yes Positively 4th Street nasty
and sometimes,
Unsatisfied
(The Replacements)
like Clues
and it's the final week,
end,
have you seen any good gigs?
shawn says,
The Bob Dylan birthday tribute
Times Changed High and
Lonesome
wasn't just good
it was Amazing Grace,
Dan Frechette
(how sweet)
not only did he solo
with the gift of changing
Voice into Nashville Skyline
(thou art)
Bob Dylan, or mid70s
Dylan or modulate
the mono/scratch tones
of mid 60s Bob
(that saved)
Dan gave us The Chills
(a wretch,
like me)
"and guess what,"
cameron says.
Dan's Mom dances
supremely,
beautifully too.
so dance with me,
Los Campesinos
Death To, is what i'm
listening to
see, i make no sense
i'm unhinged
i'm force feeding you
nothing of Mr Something Something
world beat fusion dance
music
Toronto!
Oh Musicians,
though i love
to dance
it's you
who make me
alive again,
thrive again
You breathe into me
Life Force
essence
your sweet breath
i'm alive again.
Doug of The Paperbacks
just unleashed the stomping
finger,pointing
Rage Against The Machine tribute
Bulls On Parade
at The Albert
and says he,
"I love that you're at every gig."
i'm everywhere
and somewhere
soon
i'll find myself
i am alive again.
she's there,
i see her.
now.
she's wearing my shirt
now
she's wearing my heart
now
my heart's beating now
for another
heart
to carry
in my heart
your heart is
(always)
my heart.
stay in focus
Remain In Light
The Re-mains
from Australia return
to Winnipeg
in August
the Times Changed
stay
focussed
Dan Frechette
his acoustic Bob Dylan
solo set:
Lovesick
"did i hear someone's distant cry?
sometime when the silence
can sound like thunder
I want to take to the road
and plunder
I'm sick of love
I wish I'd never met you
this kind of you
I wish i'd never met you"
now that's a song
i can relate to
and to begin the set
with, i'm lovesick,
Amazing!
Girl From The North Country
dan's voice perfectly
sounding like Bob's
of that albummmmmmm
Blowin In The Wind
As I Went Out One Morning
Nobody 'Cept You
He Was a Friend Of Mine
Mr Tambourine Man
great songs/performed by
a (com)Passionate performer
and prolific songwriter
in and of his own,
Dan Frechette
is
beautiful
wonderful
amazing
giving
accepting
and very so
talented
"Nobody 'Cept You. I don't know
why this song recorded in (19)72
wasn't put on an album and
released. It's only available
on the bootleg series. I'm
going to put on my best early
70s Dylan voice."
and Dan does
just another bit of
sheer brilliance
from the heart of Dylan
lost in the flow
of so
many poems and song
gems
Nobody 'Cept You
should have been a single
would have been
could have been
a hit
simply
an exquisite
love song
"I was listening to this old
1927
blues song and i heard this refrain,
(growling blues voice)
"he was a friend of mine"
(over and over)"
and i guess dylan heard the song
too because we know he loved
to pay "homage" to the blues
guys,
beg borrow and steal
ending the acoustic set
with Mr Tambourine Man
an oft times taken for granted
song full of genius poetics
that No One
can touch/match
i'm left in tears
"change/over. we're going to go
electric
do a Newport here"
tall thin Jake on bass
big Jake on drums
(both from the Dusty Roads band,
sizzling thumping blues band)
Grant S on E guitar
(he plays with Corb Lund)
and Joel on steel guitar
the set list:
It's All Over Now baby Blue
Down In The Flood
If Not For You
I Want You
Walkin Down The LIne
John Wesley Harding
All Along The Watchtower
From A Buick
Ain't Goin Nowhere
Quinn The Eskimo
She Belongs To Me
Dirt Road Blues
Maggie's Farm
from the very
start, It's All Over Now
baby Blue
I'm Dancing.
Down In The Flood
me and dan's mom
dancing away.
and every song
i write this is "so hot"
repeating
repeating and dancing
dancing.
Walking Down The Line
"This one, i didn't think
it got it's due. i guess
it was covered all over
(so Musicians knew).
i'm gonna do it
Rolling Stones style."
and they do/i'm moving
out of control
lost in the Beat
(Generation)
the power of
The Band
the words
the tune
the intense
Love.
All Along The Watchtower
Corb Lund knows
Grant S plays guitar
hotter than
Angus Young
on his highway to hell
"i met Grant june13th
1999. i knew i wanted to
jam with him. we were soon
playing five nights a week."
"this is my favorite Dylan song,
Ain't Goin Nowhere."
(and me too!
i Fly
i Soar
i Rocket
when i dance
to this song!)
every,
time.
the early evening show,
ends with a request,
Maggie's Farm
"i'll see if i can remember
that one."
(remember, dylan writes so many
words, after the set, dan's asked
if he can do Subterranean Homesick
Blues and he tries,
but there are just too many genius
words,lines,stanzas)
grants says, "what key?"
dan says, "F sharp."
and
jake on bass needs to watch the changes
to pick up the bass blues boogie
to maggie's farm
and there isn't
anything less than
Explosive
Incendiary
Volcanic
Brilliance
in the acoustic and electric
sets.
in the tribute
to the Poet,
Bob Dylan.
Happy Birthday.
tributes,
Whole Lotta Angus
last night
nothing compares
to early AC/DC
Highway To Hell
TNT
It's A Long Way To The Top
Whole Lotta Rosie
Sin City
Big Balls
Dirty Deeds Done Dirt Cheap
High Voltage
Let There Be Rock
Rock n Roll Damnation
Problem Child
on and on
except Girls Got Rhythm
(sadly omitted last night!)
my intention wasn't to be the very first
one dancing
my left knee tender
but there i was
i can't help myself
i gotta go/go/go
Gogol Bordello!
because Bon Scott AC/DC
is unbelievable
and don't be a snob,
because
that Is Music!
to make you Fly to
The Moon
(What's Next to the Moon?)
just ask TV On The Radio
and Dirty Projectors
because they were there
grooving, head bopping
after their show
during the one classic
after another
second set
"it's great to welcome an old friend,
eugene, just watch him dance!"
and before too long, every guy
and every woman
moving and grooving
and getting drunk
beers sloshing
pits moshing
C'mon!
and friday night
at the albert
tribute bands
for the kids help line
charity events all weekend
Rage Against The Machine
(Bulls On Parade)
and
The Misfits
(Ghouls Night Out)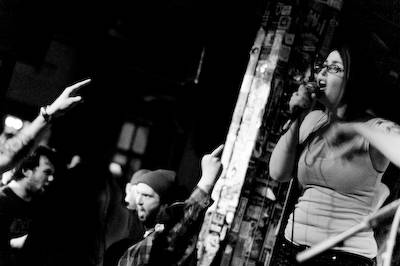 i've seen Jo
front the Ghouls
two years ago and considering
she doesn't live here anymore
This Set
was even better
stronger
and more than Vicious
it was Punk Rock
sublime
jannelle agreed
however
she wasn't into Doug's
Raging
"the band was intense
and totally into it
he wasn't."
i thought she was pulling my (sore) leg
all i know is,
Doug was stomping and jumping and sweating
and making the whole room explode
nearly the whole
and so
there you go,
it's Clues
it's opinions
sometimes
it moves you
sometimes
it don't do it
to ya.
and tributes
I Love Them.
from a pure place
an honest place
a from the Heart
place
like winnipeg's
Geek Street Band
covering Bruce Springsteen and the E Street Band
only once a year
or
Whole Lotta Angus
all dressed up as
Angus Young
strictly Bon Scott
AC/DC
or
The Maroons
doing the Ramones
or
The Paul Stanleys
all dressed and swearing
rambling like Paul Stanley
(i have yet to see them!)
or Ghouls Night Out
or Bulls On Parade
It's Love.