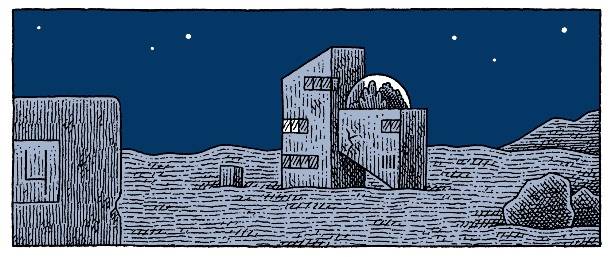 Out now – Tom Gauld's terrific Mooncop
Tom Gauld's extraordinary new graphic novel (though "short story" might be more apt) hit bookstore shelves yesterday, Sept 20.
Mooncop is a moving, beautiful meditation on loneliness, shot through with both light and dark humour. It's the Scottish cartoonist's second stand-alone work, and follows 2012's retelling of the Goliath legend (in Goliath) as well as a collection of his work from The Guardian called You're All Just Jealous of My Jetpack. Some may also recognize Gauld's deceptively simple linework from his stint as staff cartoonist at the New York Times Magazine.
Publisher Drawn & Quarterly has released a trailer for the book, which you can watch below.
Here's a sampling of some reviews as well:
"Cool, serene, and funny… like a Jim Jarmusch view of a fiercely inglorious future. "–Publishers Weekly
"In Gauld's hands, even the moon, the focus for so many dreams of adventure, is really just another setting for a beautifully-observed story of daily life, its worries and frustrations."–Creative Review
"Slice-of-life science fiction and masterful cartooning make this a can't-miss release from one of comics' most innovative publishers."–Blastr
"If I could, I would just type the heart eyes emoji here one thousand times. Tom Gauld (who also creates the best literary-related comics imo) has written a sweet, moving tale."–Bookriot
"Mooncop is a low-key book that can be read on many levels. At its heart, the story is a metaphor for life – and it ends on a hopeful note, driving home the point of how that one special someone can make life exciting and magical."– The London Free Press
Mooncop is available in a hardcover edition (96 pp., $19.95 USD/ $22.95$ CAD).