Preview – Emerald City Comicon in Seattle March 30 – April 1
– by Ryan Ingram
This weekend, Seattle will host a motley crew of comics creators, tabletop gamers, cosplayers, fanboys, as well as that dude who played Khal Drogo on Game of Thrones.
It's almost time again for the Emerald City Comicon – the Pacific Northwest's biggest comics convention – and whether you've been planning for it since last year's concluded, or have the sudden impulse to follow the I-5 down to the Emerald City, here's a quick guide to some of the goods at this year's edition of the ECCC.
Comics:
The Pacific Northwest's never-ending rain has presumably played a part in cultivating a serious crop of comic creators and publishers – a lot of whom represent at ECCC, like Mike Allred, Gail Simone, Greg Rucka and Jim Woodring.
With the reputation of the convention growing over the years, so has the list of comic heavyweights that attend. This year, Robert Kirkman (The Walking Dead), Jhonen Vasquez (Johnny the Homicidal Maniac), Adam Warren (Dirty Pair), and Bryan Lee O'Malley (Scott Pilgrim) are only of the few of the comics talent flying in for the show.
And if you're not into getting your comics autographed, or picking up some sweet sketches, there's always a ton of long-boxes waiting to be picked apart, and it's always worthwhile to stop by Dark Horse, Oni Press and Fantagraphics to pick up some new books.
TV:
While the ECCC has done an impressive job of keeping comics at the core of the convention, they do an equally solid job bringing in actors and actresses from your favorite shows that either take place on spaceships or feature zombies. This year, cast members from Firefly and The Walking Dead will be there, along with geek gods/Star Trek alum Wil Wheaton and George Takei. Also: Jason Momoa from Game of Thrones, Edward James Olmos from Battlestar Galactica, and more.
The media guests are available for autographs and photos (for a price), but they'll also be making appearances on panels throughout the con, too.
Exclusive convention collectibles:
Any convention worth it's weight has exclusive collectibles. These exclusives are rare items produced solely for sale at the convention, that are bought and quickly resold on eBay for three times their original cost. While the list of this year's exclusives is long and Space Needle-themed, the most sought after one is the Monsters and Dames book.
This is the fourth year the convention has produced the handsome art book that gets creators to run-wild, asking them to create pin-ups that feature both a monster and a dame – or just one Courtney Love (amiright, Seattle?).
Panels:
One of the bizarre-but-great highlights of last year's con was watching The Office's Rainn Wilson taze Seattle's real-life superhero Phoenix Jones during a panel publicizing his movie, Super. Hopefully Jones will crash another panel this year, but even if he doesn't there's still a hugely diverse offering of programming. Aside from a wealth of comics-related ones, there are panels on comedy, creating video games, roller derby and voice acting.
The biggest bang for your nerd-buck is probably Sunday's panel featuring Wil Wheaton and author Ernest Cline as they discuss Cline's beloved retro video-game-based book Ready Player One that takes place "in a universe where spell-slinging mages battle giant Japanese robots."
Cosplay:
It's actually against the law to hold a comic convention without having people dressed up in crazy homemade costumes. Luckily ECCC always brings the goods during the convention – especially Saturday night, when they hold their annual costume party. Here's an especially creative example – zombie Captain America!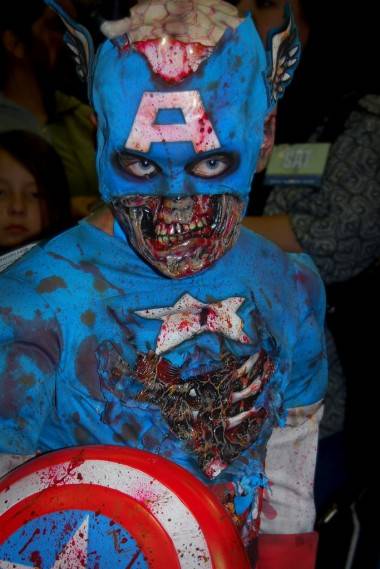 Convention after-hours:
If you're ready for more once everyone is kicked out of the convention, you're in luck; nerd-rock band Kirby Krackle hosts Kracklefest: A Night of Nerd Music at the Hard Rock Cafe tonight (Friday).
Saturday night features a live-art show, as well Fantagraphics' Emerald City Pinball Party, hosted by Jim Woodring. And SIFF Cinema Uptown is screening Back To The Future with actress Lea Thompson in attendance.
And it might be worth checking out the comic-book-inspired art show called MINTcondition happening at Ltd. Art Gallery.
For more info on the events, check out the ECCC's site.