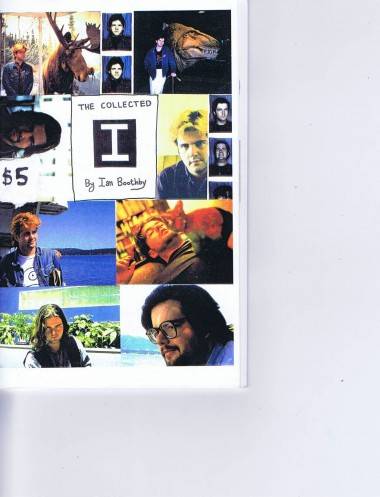 Interview with Ian Boothby
– by Ryan Ingram
I'm going out on a limb here and declare Ian Boothby one of the best comedy minds in Vancouver.
What started out as a small autobiographical comic turned into an almost decade-long stint writing The Simpsons comics.  Boothby even convinced Matt Groening – the freaking creator of Futurama and The Simpsons – how to do a proper crossover with his own universes. And when he's not writing comics, Boothby has also done a ton of improv around town, and keeps busy writing the funny stuff for television, too.
To top things off, this year Boothby received an Eisner nomination – the Oscars for comics – for Best Writer.
Luckily, Boothby also happens to be a pretty nice guy. Read on about his most bizarre Comic-Con moment, his favorite part of writing the Simpsons/Futurama crossover, his leaf-blowing crazy neighbor, and more.
Ryan Ingram: You just got back from Comic-Con. What was the weirdest thing you've ever seen there?
Ian Boothby: A guy dressed as Johnny Depp's Mad Hatter talking to a guy dressed as Johnny Depp's Edward Scissorhands and one saying to the other, "Come on man, don't make this weird."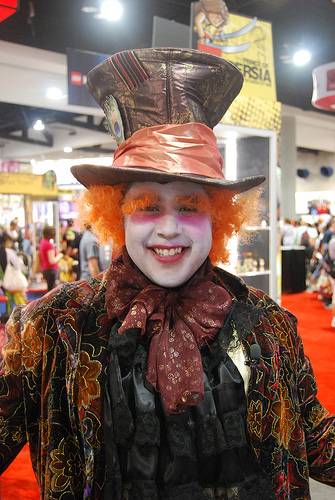 RI: Did you bring back any good swag this year from the convention?
IB: My wife is the one who picks up Doctor Who toys at these things. I think she got something called the Pandoricon. I got a book about [Superman co-creator] Joe Shuster's history of doing fetish drawings. Both things that get second looks when you go through the border.
RI: You were up for a Best Writer Eisner this year. What's your attitude going into awards ceremonies?
IB: I don't think art should be judged in a contest. That's really just silly. But the positive about this kind of thing is it gives attention to books maybe people haven't heard of. I'm currently reading Locke and Key because of its nominations and it's great. [Read Ryan Ingram's story about the Locke & Key pilot screened at the 2011 San Diego Comic-Con.] It's the same with any award, the winning is nice and it can open doors but it doesn't mean anything is actually better than anything else. It's all subjective.
RI: What's your comics origin? I know you have a background in improv, but how'd you land the gig writing The Simpsons comics?
IB: I used to do a self-published, mostly autobiographical comic called I, which also was a comic strip in a local paper called Terminal City. The folks at Bongo [publisher of The Simpsons comics] liked it and I asked if I could send them some writing samples. After a long wait I eventually got a four-page story to do, then a full issue and I've been working with Bongo ever since.
My writing background starts when I was 14 and would sneak into the CBC here in Vancouver and slip ideas for sketches and TV shows under the doors of producers.
RI: You wrote the epic Simpsons/Futurama crossover that was re-released last year. What was the biggest challenge, bringing together both Groening-verses?
IB: First of all, finding a way to do it. They don't exist in the same universe so you can't just use time travel and pull off a Flintstones-meet-the-Jetsons thing. Also Matt was originally opposed to the idea, but I came up with a way to do it that my editor Bill Morrison liked and he ran it by Matt who thought it could work.
RI: What did you enjoy writing the most in the crossover?
IB: Bender and Homer meeting at Moe's and then Bender having inappropriate relations with Flanders' jukebox.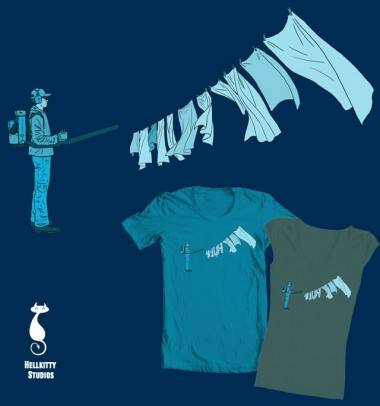 RI: This is sort of a random question: you linked to a design a while back on Threadless that your wife, Pia Guerra [artist on Y: The Last Man], designed – is this really based on a neighbor of yours? And do you think he'll dry my clothes too?
IB: We have a neighbor who's a bit leaf-blower happy. One of his kids dropped something in their kiddie pool and my wife heard him say, "I'll just blow dry it." He went inside and used the hair drier but she thought at first he'd be pulling out the leaf blower and it sounded like a funny image to draw.
RI: How did the recently-released short story "My Deadbeat Dad" come about?
IB: Nina Matsumoto and I were paired together to do a Death Note [manga series] parody for Bongo's Treehouse of Horror comic. That story ended up winning an Eisner Award for best short story. She's an amazing artist and I wanted to work with her again. There's another Bongo story we're doing together coming down the pipeline, but in the meantime I had an idea for a story about a girl whose father has custody of her on the weekends but he's currently in Hell. The agreement was so binding she has to spend every Saturday and Sunday in the afterlife. I thought Nina would do a great job with it and I was right.
RI: Are you guys planning working on anything else together?
IB: Yes, aside from the Bongo story we have another comic in the works called Double Crossed that involves an alcoholic vampire.
RI: What else is keeping you busy?
IB: Still doing Simpsons and Futurama comics.  My wife and I have a kids' show in development that basically Tin Tin for girls.  There's also an animated series we're working on.
More information about Ian, including rants and essays on improv and comics, can be found here