Recap–An Evening With the Quaids
– by Philip K. Dink/photos by Rachel Fox
On the plus side, the movie Star Whackers is pretty entertaining. If you enjoy awesomely self-indulgent, sub-Donald Cammell, existential head movies, that is. Which is a pretty big fucking 'if'. And Star Whackers is also a decent flick for those who appreciate either Shakespeare or penis, both of which you hear and see a lot of, courtesy of Vancouver's favourite Hollywood refugee, Randy Quaid.
But "An Evening With the Quaids" turned out to be a big disappointment if you've invested any sympathy at all in the couple and their nightmare tale of extortion and possible murder by business managers, estate planners, accountants, attorneys, producers, journalists, and former friends.
The movie certainly offers no clues, answers, or even much of a passing resemblance to the plot they've been discussing with the media. Instead, it's an impressionistic, desert-shot chase film that pits Quaid the hitman against Quaid the Shakespearean naturist – "possessed by Falstaff" – overseen by Quaid as some sort of spirit-embodiment of evil Hollywood (with a deer skull stuck to the top of his head). "You, Quaid, sell beer, bait, and ammo," declares evil spirit Hollywood at one point. "And if you live in nature, you don't have a phone, and if you don't have a phone, we can't bug it…"
When the Quaids took questions from an increasingly divided audience after the screening (and a brief performance by Randy's band, which included a suspiciously coordinated stage invasion by a suspiciously burlesque-y looking bunch of ladies), Evi described Star Whackers as "the hyper-surreal aspect of what it is to be pursued to your own death… it came out of our unconscious." This was in answer to a lady who gave the couple supreme shit for telling us precisely nothing about Star Whacking or any other conspiracy with their "docudrama". She was followed by a guy who began his question with, "Thanks for that, although I think some of us were kind of bored by the movie…"
I wasn't bored. But I felt dirty. And I was dismayed to find that the Quaids' story is looking awfully threadbare at this point. Being that it's a high stakes racket run by crooks and scumbags, Hollywood really does kill in a variety of ways. And killing people or ruining lives is the kind of thing crooks and scumbags do, inadvertently or otherwise. Consider Judy Garland, who was blackmailed by her own agent with half-naked photos taken while she was having her stomach pumped. That agent went on to become the head of Columbia pictures. There is plenty of precedent not to mention latitude for screwing the shit out of hapless celebrities. Muddying the waters doesn't educate, inform, or help anyone.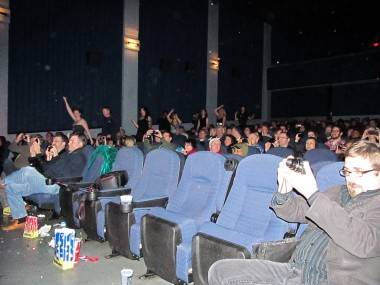 Or maybe they're telling the truth and I'm just a dink, although I suspect that if we'd interviewed the Quaids (we tried), our questions would have been a little too probing. Or "uncool", if you like – the audience at the Rio was told that Randy and Evi would not answer "uncool" questions. A handy cello player joined them on stage to make a fucking horrible squealy noise whenever things got "uncool". It was a gong show. We learned squat.
Still, Randy was quite charming up there, and the film – really, all proportions maintained – has its moments. Evi has a good eye, and there were a couple of improvised scenes with Quaid the hitman and some Texan ranchers that had genuine soul, short as they were. Interestingly, that character muses at one point, "Everybody needs to live a lie to some extent, don't they?" Evi also appears briefly as Death. Make of that what you will.