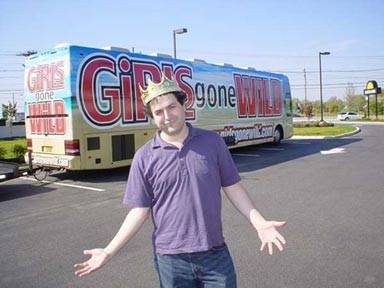 Interview -Â The Best Show's Tom Scharpling
– by Terris Schneider
If you're reading this, and you haven't seen the videos for Ted Leo's "Bottled in Cork" or the New Pornographer's "Moves," do yourself a favour and watch them now.
The man responsible for directing these videos is Tom Scharpling, host of WFMU's The Best Show. The Best Show is a call-in comedic radio show based in New Jersey. The show is described as "three hours of mirth, music, and mayhem" and runs Tuesday nights from 9-12 EST.
One of our favourite segments from The Best Show was the recent roast between Tom Scharpling and comedian Paul F. Tompkins (Mr. Show) over the  Insane Clown Posse music festival, Gathering of the Juggalos.  Tom played an advertisement of the festival and he and Tompkins made hilarious comments mocking the festival.
Tom is also known for hanging up on callers who piss him off, to whom he responds "Heave ho" or "Get off my phone!" However, aside from all the grumblings, Tom is a huge supporter to the alternative music and comedy community. He has had esteemed guests on his show such as John Hodgman, Patton Oswalt, and Julie Klausner. Scharpling also brings his comedic wit along with colleague (and Mountain Goats/Superchunk drummer) Jon Wurster, where Wurster calls in as characters such as Marky Ramone, Mike Sajak (Pat Sajak's brother), Philly Boy Roy, and many others.
Scharpling also plays incredible music at the beginning of his show, featuring the likes of Yo La Tengo, Guided by Voices, Big Star, and Ted Leo and the Pharmacists. His music taste even rivals mine (okay, it's way superior, I'll be the first to admit it). I am thrilled to share my initials with him and he makes TS's proud everywhere.
We got to ask Tom a few questions about his music videos, his show, and his favourite music of 2011 thus far.
Terris Schneider: How did you get into directing music videos and do you plan on directing more of them?
Tom Scharpling: I had written and produced a video for Ted Leo and the Pharmacists for their song "Colleen" a few years ago, and my friend Michael Bellino directed it. I always had the desire to direct in the back of my mind but I wasn't ready for it, so I kinda just waited.
I asked Ted about doing  a video for something from his next album and when he put out The Brutalist Bricks he asked me about directing something for the song "Bottled In Cork". I got nervous about it because it was SUCH a great song and I didn't want to mess it up for him. So I asked him for a couple days to think about it. I ultimately realized that I had to kinda go for it. So we came up with the concept for "Bottled In Cork" and then shot it and it came out really good, so when the Joe Goldberg – one of the New Pornographers' managers – asked me about doing a video for them, I was hooked.
Yeah, we are planning on doing more videos – we just shot a Titus Andronicus video a couple weeks ago that should be coming out very soon. It's a total tribute to rock and New Jersey. And there are talks going on with other people and we are open to hearing from bands who want The Scharpling Touch. And I mean that as a joke.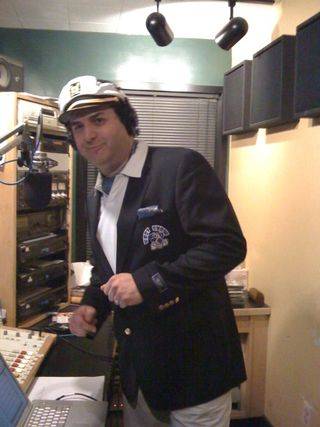 Terris: Where did the ideas for your music videos come from?
TS: I really try to work on figuring out a way to best showcase the band and the song. That's the ultimate goal – to put both the song and the band in the best possible light. And I want to come up with things that will get attention for the video, which means more attention for the band and the song. Which is partly why the New Pornographers video has so many famous people in it – because it will draw that much more attention to the band. I mean, it also has famous people in it because of the concept, but there's different layers to the onion, so to speak.
Terris: I heard you are developing a television show for Paul F. Tompkins.  Can you tell us more about that?
TS: It's a half hour scripted show and we're writing it right now. It's really funny but I kinda don't want to talk about what it's about just yet.
Terris: Who do you have in the Hate Pit and on Love Hill right now?
TS: The Hate Pit is where people I don't like go, and Love Hill is the antidote to the Hate Pit. I know the Miami Heat and Kevin Pollak and Kevin Smith and some others are in the Hate Pit, and Cornel West and Robert Wyatt are on Love Hill. You can track this stuff somewhere on my message board at friendsoftom.com.
Terris: Why did you stop doing the Unfair Record Reviews?
TS: I'm not crazy about doing the Unfair Record Reviews anymore because they created meanness just for its own sake, and there's enough of that being done by half-talented and non-talented people out there. The easiest thing in the world to do is be nasty, and far too many unfunny people mistake meanness for humor. Since I am lucky enough to do that, I don't want to.
I mean, why should I start ripping people in an ironic way? It's hard enough to create things and have people not like them. So why should I add to that in an insincere way? I liked that Wilco album I goofed on a million years ago a lot, so it felt kinda inauthentic. Let the half-talents take the concept; I'm all about celebrating people in this life who have the guts to actually MAKE something and put it into the world.
Terris: What are your favourite albums of 2011 so far, and what albums do you look forward to this year?
TS: I love the Kurt Vile album a ton. And I'm looking forward to records by Sloan, Fucked Up, and the Black Lips.
This is the last week for WMFU's annual pledge drive. Donors who pledge $75 or more during tomorrow's show will receive the "Don't Stop Me Now 2011 Best Show Fantasy Pack." Â For more information, see last week's post about the pledge.