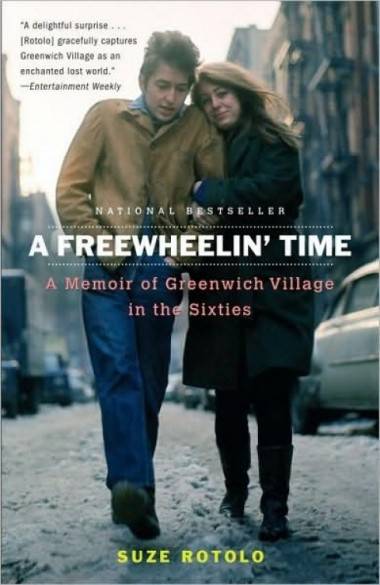 A Memoir of Greenwich Village in the Sixties
– by Jenn Laidlaw
It's a story of a girl – a red-diaper baby growing up in New York City in the sixties during McCarthyism, the feminist movement, the civil rights movement, Vietnam, peace, love and understanding, the explosion of the folk music scene and the world's discovery of a guy named Robert Allen Zimmerman.
A Freewheelin' Time (Broadway, 381 pps, hdcvr), Suze Rotolo's memoir, is a backdoor into the world of Bob Dylan through the eyes of that girl snuggled up to him in a cold New York street on the album cover of Freewheelin' Bob Dylan. It is an account of the subculture of Greenwich Village from an unassuming gal who just so happened to date the man who changed the world with his music.
"Folk music was taking hold of a generation and it was important to get it right, including the look – be authentic, be cool, and have something to say. That might seem naïve in comparison with the commercial sophistication and cynicism of today, but back then it was daring, underground and revolutionary. We believed we could change perceptions and politics and the social order of things. We had something to say and believed that the times would definitely change." – Suze Rotolo
It is almost laughable, the crazy day-to-day of being a bohemian in New York at that time – accounts of parties, gigs and daily life with friends and acquaintances that included John Lee Hooker, Peter, Paul and Mary, Dave Van Ronk, Bill Cosby, Joan Baez, Edie Sedgwick, Andy Warhol and George Harrison. To Suze they were just a bunch of artists doing their thing, to the rest of us they are legends.
She is the unnamed girl in "Bob Dylan's Blues", "Down the Highway", "I'm in the Mood for You" and many others. She first saw Dylan play back-up harmonica in a Woody Guthrie cover band of sorts and was by his side as he recorded his first songs, played a gig for a paltry 53 people at Carnegie Hall, slummed it through black-tie Columbia Records soirees and took off up the charts.
But Suze Rotolo was also living her own life, as a painter and an activist. Born in Brooklyn Jewish Hospital, Suze was raised with no formal religion by her Italian parents, members of the American Communist Party.
From an early age she was educated on unions, Woody Guthrie and political marches. She worked on campaigns, built theatre sets and went to university in Italy. In 1964 she was part of a small group of students who successfully tested the American travel ban to Cuba, although they had to detour through London, Paris and Prague to get there and then had their passports revoked by the FBI upon their return.
The book is full of drawings, concert tickets, gig posters, newspaper clippings, excerpts from letters, black and white photos of her, Dylan, Washington Square Park and all the major staples of the folk music scene in Greenwich Village during the sixties.
A Freewheelin' Time is a genuine peek inside a period romanticized for its creativity, sense of hope and pursuit of youthful ideals. It is a portal to a different time. It is a book I will likely dust off time and time again for a reminiscent read, folding back pages and underlining names of bars to seek out on my next trip to NYC.
"The 1960's were an amazing time, an eventful time of protest and rebellion. An entire generation had permission to drink alcohol and die in a war at eighteen, but it had no voting voice until the age of twenty-one. Upheaval was inevitable. Talk made music and music made talk. Action was in the civil rights marches, marches against the bomb, and marches against an escalating war in Vietnam. It was a march out of a time, too – out of the constricted and rigid morality of the 1950s. The Beats had already cracked the façade and we, the next generation, broke through it.
Travelling with the past within us, we were ready to roll, into the future. It has now become a historical time made up of many personal stories, songs and sidebars. There are many reliquaries from that era in American life. This is mine." – Suze Rotolo.