Book review – The Art of Tony Millionaire
– by Shawn Conner
Drunken crows, ambulatory sock monkeys, pirate ships and old galleons, giant squids and booze. Yes, it's Tony Millionaire.
The cartoonist is probably best known for Maakies, a no-holds-barred comic strip about the boozing bird Drinky Crow and his hapless friend Uncle Gabby, but which also incorporates cannon fire on the high seas, wanton women, cheap jokes and a wiseacre attitude that keeps it comfortably nestled in the back pages of various North American alternative weeklies.
But 2009 may be the Year of Millionaire – Elvis Costello pegged him for the cover art of his latest album, Secret, Profane and Sugarcane, and now Dark Horse, which also publishes Millionaire's Sock Monkey comic book, has compiled The Art of Tony Millionaire (Dark Horse, 2009, hardcover, $39.95)
Even without the idiosyncratic subject matter, Millionaire's art is instantly recognizable from the profusion of delicate lines that give his panels a woody, grainy look, and also the detail that goes into those objects that fire his imagination – the ships, right down to the last cannon, or the old houses, several ink drawings of which are collected here.
And there is also that love of booze, or perhaps drunkenness, which is personified ('birdified'?) by Mr. Crow, usually seen with x's for eyes and a bottle of upended hooch in his beak, with accompanying "Dook! Dook! Dook!" sound effects. And yet, for all this debauch, Millionaire can turn around and produce the pure innocence of the Sock Monkey strips, which are infused with childhood wonder and whimsy.
The Art of Tony Millionaire collects strips, drawings, posters, album covers, photographs, portraits, magazine illustrations, and words (Millionaire's, often explaining the background to a picture or piece of art), some colour (Jim Campbell is credited with much of the colouring), some black and white. All of it is distinctly Millionaire; much of it, like the book itself, almost painfully gorgeous.
Some highlights include Millionaire's early pen-and-ink drawings of old houses, which first alerted him to the idea of earning money from his talent; his anecdotes about drunken youthful follies (today's Millionaire is a respectable Pasadena, CA-dwelling husband and father whose main vice is beer); two-page and full-page illustrations of fishing boats and schooners, rarely seen strips like "Frank Rich Editor of Modern Drunkard Magazine Interviewed By Tony Millionaire Cartoonist Maakies"; a tribute to Raggedy Ann and Andy creator Johnny Gruelle; a four-page colour fold-out of a battle at sea (this being Millionaire, the combatants include alligators, Uncle Gabby and Shriners); illustrations inspired by Invasion Manual of Earth by Satan (a book said to be "translated from the Demonic by Martin Olson"); a two-page watercolour of an alligator in a Napolean-type outfit mounted on a horse; and a stunning final page depicting Sock Monkey dwarfed by the planets of the solar system, overseen by an angel.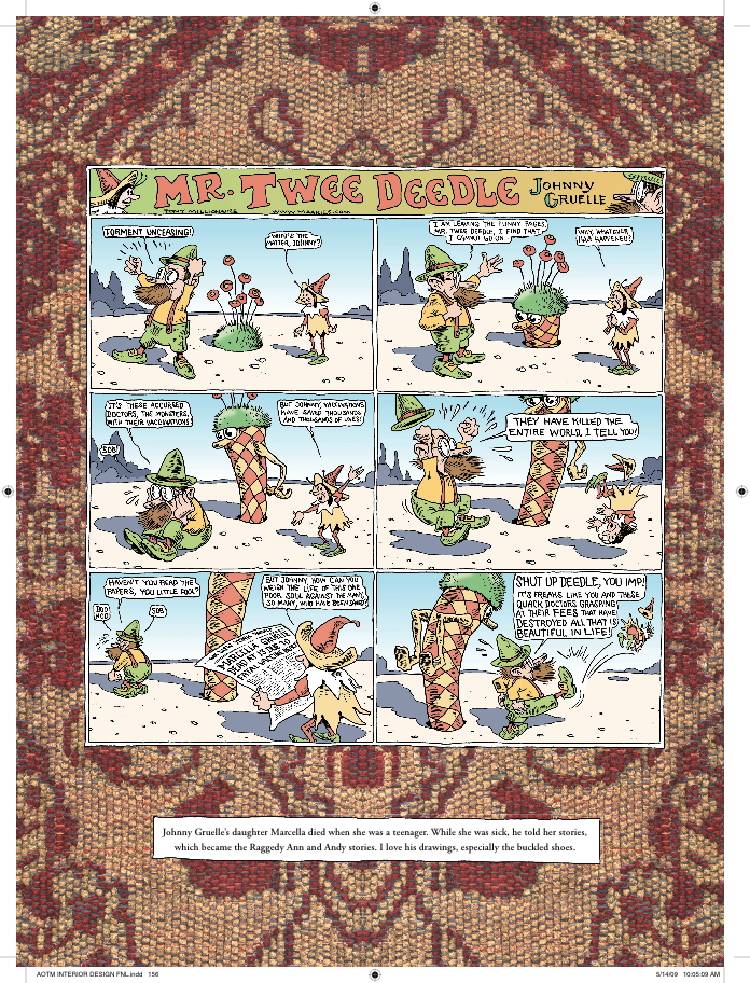 But really, the whole thing is a beauty. The folks at Dark Horse (publisher of Hellboy, among many other titles) have gone the extra distance in ensuring that each piece is presented to greatest effect, with backdrops that complement the art and just enough insight from the artist to add to the presentation without spoiling the mystery. (Though I'm still wondering what the two pages devoted to a message board exchange about Yogi Bear has to do with anything. Just the cartoonist's perverse sense of humour, perhaps.)
Most artists are a product of their obsessions, but Millionaire's are among the strangest and most eclectic. There is a whole world within these pages. It's Millionaire's, and we're lucky to have a chance to visit. Dook dook!