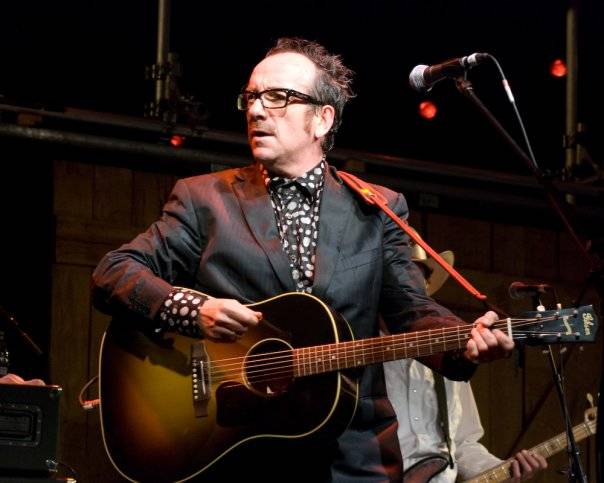 Elvis Costello at the 2009 Winnipeg Folk Festival July 8
– text by eugene osudar/photo by Mike Latschislaw
accidents will happen
mystery dance
you belong to me
i don't want to go to chelsea
man out of time
blame it on cain
i'm in my (s)explosive
dancing glory,
all the kids
checking out
the old guy
dancing away
in the killer
("that's the coolest shirt!")
Kool Kitty
Holy F*ck
tshirt
now, we're dancing
all of us
on the grooving side
1978
15 years old
Playhouse
my first concert
Elvis Costello and The Attractions
reliving the anger and the power
of those four skinny English guys
ribcage rattling
heart thumping
against my sternum
past glories!
and then comes
a lovely surprise
motel matches
(jeez, if only secondary modern followed
or (Give Me) Temptation!)
if only,
rattle off two hundred
precious
Elvis Costello
jewels
three hundred!
four hundred!
okay, play the entire
Get Happy
album and i'd be,
Elated!
Ecstatic!
Emphatic!
now, wouldn't that be tremendous,
Elvis Costello,
choosing one of those albums
and touring several months with just
that album. then, another few months
with another album!
album after albummmmmmmm
My Aim Is True
This Year's Model
Armed Forces
Get Happy!!
Trust
Imperial Bedroom
Punch The Clock
King Of America (big time of helping of the lovely King album last night)
Blood and Chocolate
Spike
these are gems,
the jewels
tools to rattle n roll
rock n roll
dancing souls
oh my, perfection
comes with a price,
too many slow,down,middling
tempo, songs
beautiful songs
(Yes they are)
but the ho/hum
settles in
gathering dust
"there's gonna be no dancing"
sleep of the just
suit of lights
brilliant mistake
american without tears
radio sweetheart
quite a few songs with The Lovell Sisters
(i've missed a few
i wasn't writing them down
this is
Painted From Memory)
we were told a couple of songs
with The Lovells was in the cards
(they played five, six together!)
just before the noon hour
festival kick/off concert
Old Market Square Park
with Mark Berube and the Patriotic Few
pay it back
watching the detectives
alison
angels wanna wear my red shoes
radio radio
pump it up
and
what's so funny bout
peace love and understanding
they played nearly 2 hours
i was elated
and then miffed
at yet another
prolonged lull
aahhh
bye
like middle
section
of the show
you know,
if he'd only play,
if only
he'd rage
again
on the stage
we
the audience
would see and feel
the most amazing
concert
ever!
there was a guy
who talked about Bruce Springsteen
as we left
how he and Elvis played
about the same time length
set
2 hours,
well, Bruce and E Streeters played
2 hours twenty
in Vancouver
year and a bit ago
Bruce
doesn't stop
being Bruce
Re;lentless
mother of all rockers!
he's 59, going on 25!!!!!
Elvis is cooling it down
at 55,
going on 45!
back in 78
pumping up
the venom
i still love him
i can't help myself
it's all Painted From Memory
there's something so beautiful
hearing
that opening
to
The Angels Wanna Wear My Red Shoes
thank you,
Elvis Costello
Imposters
Lovells
Winnipeg Folk Festival
More Elvis Costello Winnipeg Folk Festival 2009 photos:
no images were found