Bands With Cats – LL Schultz from EP Island and Menue
– by Cheena Jean Normandin
Your bands and role/instrument: LL Schultz from EP Island (and Dating Myself, Down the Lees). Guitar player, singer, songwriter and recording engineer.
What's your cat's given name? Menue Schultz
What's Menue's origin story?
Menue (originally named Montana) was at the SPCA in Vancouver. I didn't want to keep that name for her because my sister had a dog named Hanna and I didn't want our kids to be Hanna Montana. So, it was changed to Menue. Actually, at first we named her Minou (french for kitty) but as she grew bigger and bigger from loving food so much, we changed it to Menue (as in Menu). She was a teenage mom from Salmon Arm. All of her kitties were adopted and she was left behind. When I went to meet her, she crawled right in my lap. I filled out the adoption papers with her in my lap.
What does Menue eat?
She eats dry food from her robot. For awhile there, we had issues of her jumping on our bed at 5 a.m. meowing and meowing. We don't leave food out for her to eat at her leisure, she would turn into the biggest raccoon you'd ever see. So, we got a mechanical food tray that disperses three feedings in 24 hours. It saved our lives! She has a routine, we get sleep. Everyone wins.
What do you think Menue's theme song is?
The one thing that bugs me about Menue is that she isn't really into indie rock. Or rock, for that matter. My last cat, Midi, loved indie rock and would sit beside me when I played. Whenever I'm listening to music, like Drive Like Jehu, Savages, Led Zeppelin or Deerhoof, Menue's ears flip back and forth like she is flagging a plane to land. Whenever we have an EP Island session, she is usually hiding in the bedroom. So, I think her theme song would be "Sounds of Silence" by Simon & Garfunkel.
Do you have reason to suspect Menue is hatching any incredible schemes at the moment?
Well, it is spring, so her scheme is to get outside. I don't allow her to go outside unattended. We have mean cats, raccoons and the odd coyote. Plus, you really shouldn't leave your cat outside. They are susceptible to disease and danger.
What is the last book Menue fell asleep on?
Getting to YES: Negotiating Agreement Without Giving In by Roger Fisher. I think she is trying to convince us that she is not being fed enough.
What is the most impressive thing that Menue  has murdered?
Actually, is was attempted murder. I heard a commotion on the front porch so I ran to discover that she had a little bird in her mouth. It was flapping a wing trying to break free. So, I grabbed her by the scruff, opened her mouth and the bird flew away. She was mad at me after that.
Where is the last incredible feat that Menue accomplished?
She survived an attack from another cat. We have a few bully cats in the neighbourhood. One time this big grey cat came bounding up the stairs and attacked her, biting her stomach. She had to go to the vet and get treated. She was pretty sick. But, she rebounded! Now I'm super careful about being around when she is outside. Plus, I haven't seen the bully cat in a long while.
What type of music does Menue listen to when she's getting ready to prowl?
I suspect she has an internal soundtrack of music like the Theme from the Pink Panther. Tame, sneaky and recognizable.
If you and Menue woke up in a weird Freaky Friday situation, what do you think would be the first thing she would do?
She would go to the kitchen, find the big tin of cat food, take the lid off and pour all of it into her mouth. Then she would have a nap.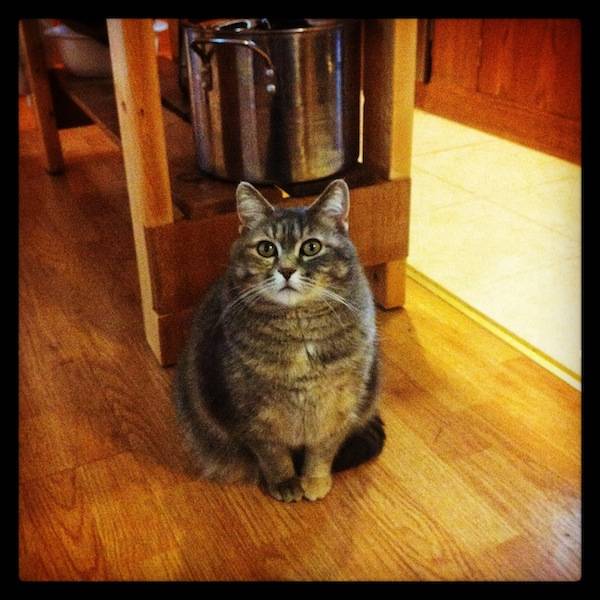 About EP Island:Â 
EP Island is a songwriting and recording project, executed over intensive periods, featuring LL Schultz and Melanie Covey and special guests. Wanting a break from the usual band grind, Schultz (vocals, guitar, recording engineer) and Covey (percussion) started EP Island as a sideproject that would exist only when they wanted it to, scheduled as one-weekend events, bringing in special guests with the goal of writing and recording as much as possible over three days. This non-band "band" offered an intense creative process that produced immediate results. Possibilities to explore and vary the EP Island sound have grown with the inclusion of special guest musicians in each subsequent outing.
Four EPs (Good'ish, Rad'ish, Sweet'ish and Electr'ish) have been created and a fifth one is slated for June 2014, guests to be announced.
Welcome to EP Island video: http://vimeo.com/73402856
Facebook: facebook.com/episland
Bandcamp: episland.bandcamp.com