Review – Prince at the Vogue Theatre, Vancouver, April 15 2013
– by Shawn Conner
Prince kicked off his West Coast tour Monday night in Vancouver.
In the first of two shows tonight – followed by two more tomorrow – at the Vogue Theatre, the Minneapolis singer seemed as interested in showcasing his new back-up band as in showing off his own talents. Unfortunately he has chosen to name this trio "3rd Eye Girl".
Never mind that, however. In fact everyone was too charged up and focused on the man in the spiky stilettos at centre stage to much care who was backing him up.
Not that the show was without controversy. The outcry over the ticket prices – $250 a pop – raised some ire when they were first announced. In the end, not enough people wanted to pay that much, and the day of the first show tickets were going for as little as $50, if you could make it to the Save On Meats butcher shop/diner in time.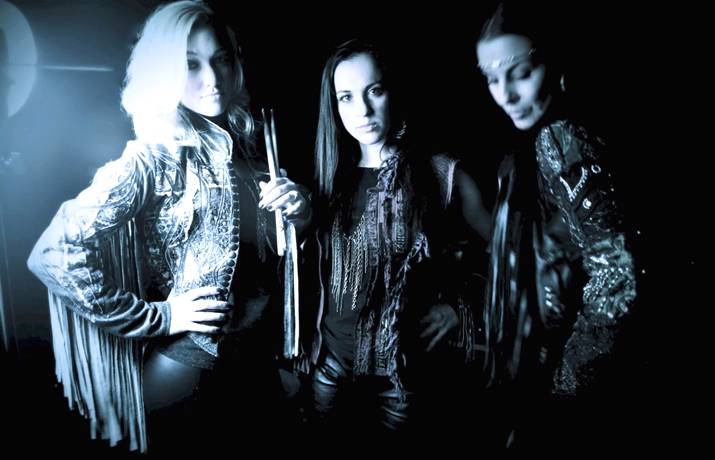 But once again, this reviewer digresses.
First off, anyone hoping for a Greatest Hits package was bound to go home disappointed. Even more so than in his arena shows, Prince does what he wants in smaller venues like the Vogue. What he wanted to do was play guitar with a rock band, and not necessarily the songs people would want to hear.
The closest he came to anything approaching a hit was "I Could Never Take the Place of Your Man", from Sign O the Times (1987), slowed down to a grunge tempo. And, for an encore, "Let's Go Crazy" got a similar injection of grunge, and though the familiar guitar lines and chorus excited the crowd, the song's refrain isn't quite as convincing when the rhythm has a lead weight attached.
Not to disparage the talents of Hannah Ford, who was a monster on drums when she needed to be. The same could be said for Ida Nielsen and her bass. Donna Grantis sure had the guitar-hero moves and the slick licks, but her playing seemed colourless next to Prince's melodic riffs and solos.
In fact there was a whole lot of 3rd Eye wankery on display as the Live Out Loud tour lived up to its name. Many of the songs hit a psychedelic rock-jam groove which at times was probably more fun for the players than the audience, although Prince is such a showman that few people will complain.
"Can I hear you Vancouver!"
"We love you Prince!"
A partial setlist includes "Screwdriver", "She's Always In My Hair", "Guitar", "FixUrLifeUp, "I Like It There" and something I think was called either "Too Young to Dare" or, just as likely considering it's Prince, "2Y2D". There was also "Bambi", a resurrected early Prince song (from his 1979 debut) with a big Hendrix influence and a song that could be this tour's signature tune. There was also a horny ballad complete with a stage candle (and footage of candles on the video screen backdrop – apparently, the song was another Prince oldie, "When We're Dancing Close and Slow", though I didn't recognized). Another newer Prince number, "Cause and Effect" ended the set after less than 90 minutes.
With probably about 40 minutes to go before the theatre would have to kick us out and start letting in the late night show's ticket-holders, we were all hoping for a big-deal encore packed with hits. Instead we got the aforementioned slowed-down "Let's Go Crazy". Then the houselights went up.
However by now I'm onto this guy's tricks and so I knew enough to stick around. Sure enough, after about at least a quarter of the people had left and hundreds had shouted themselves hoarse, Prince returned for one more out-there psychedelic space-rock jam.
What else can I say? It was Prince.
Setlist* -Â Prince at the Vogue Theatre, Vancouver, April 15 (early show):
Ain't Gon Miss You
Screwdriver
She's Always In My Hair
instrumental
I Could Never Take the Place of Your Man
Guitar
FixUrLifeUp
I Like It There
When We're Dancing Close and Slow
Bambi
2Y2D
Cause and Effect
1st encore:
Let's Go Crazy
2nd encore:
Stratus (Billy Cobham cover)
*Not necessarily in chronological order – this is what I could piece together from my own observations as well as two other reviews – Francois Marchand's in the Vancouver Sun and Rob Collins' at CTV.