Comics Digest 12 (with a Harry Potter chaser!)
– by Clinton Hallahan
– Camp Nolan has seen fit to grace the world with a new poster for The Dark Knight Rises. In it, Gotham looks like it's crumbling with the Bat-logo above it all, which would mesh with one long-running Batman theme that Nolan has really seized on – would Gotham be overrun with murderous psychos if Batman wasn't around? Do they gravitate to him? Time will tell, but until then you can salivate over rumours that a trailer will be attached to Harry Potter 7.2 hitting theatres this weekend. Keep an eye on Guttersnipe News for confirmation of that rumour and a review.
– The new international trailer for The Adventures of Tin Tin: The Secret of the Unicorn has been released. If you're not excited by this Steven Spielberg-directed adaptation of the classic, may I suggest a vacation?
Watch – The Adventures of Tin Tin: The Secret of the Unicorn (trailer):
http://youtu.be/X0tfWj24eVY
– The roster of the Unexpected Party continues to grow. Adding to The Hobbit photos released in the past few weeks, MSN has added Kili and Fili to growing ranks of the Bilbo Baggins escort. And these are some attractive dwarves, I tell you what. You can see the slight shift in art direction from The Lord of the Rings films, with real notes of Guillermo del Toro who had to drop out as director. Everything is a little sharper and darker. I like it.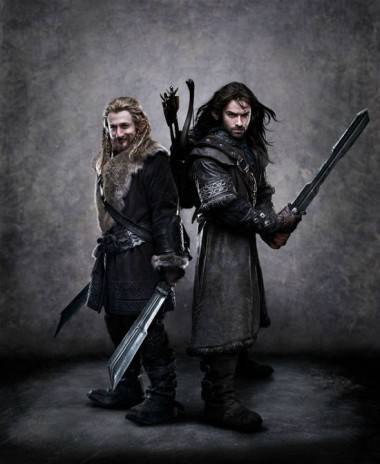 – Superherohype got to talk a little bit to Emma Stone about her role as original Spider-Man it-girl in the rebooted Amazing Spider-Man, but her lips are pretty tight on particulars. She seems grateful for the role though, which is a good sign. I can't have any Megan Fox types in my Spider-Man.
– Harry Potter and the Deathly Hallows Pt. II hits theatres this Friday. Here are what critics are saying about early screenings:
The Telegraph: "Perhaps the greatest triumph of this final film is its ability to overcome the deficiencies of J K Rowling's writing. In the last Harry Potter volume, she failed singularly to muster the epic feel needed; as a result, on the page, the concluding battle at Hogwarts was a damp squib. But Yates here transmutes it into a genuinely terrifying spectacle, as bloodied students fight desperately against a horde of screaming black-robed Death Eaters… This is monumental cinema, awash with gorgeous tones, and carrying an ultimate message that will resonate with every viewer, young or old: there is darkness in all of us, but we can overcome it."
Watch – Harry Potter and the Deathly Hallows Pt 2 (trailer):
Guardian UK: "Radcliffe's Harry Potter has emerged as a complex, confident, vulnerable, courageous character – most likable, sadly, at the point where we must leave him for ever. Wait. I've got that darn thing in my eye again…"
The Hollywood Reporter: "Technically, nothing has been held back. The eventual sight of Hogwarts as a crumbled ruin is striking, Eduardo Serra's cinematography outclasses what he accomplished the last time out, and some of Nick Dudman's makeup effects – especially with the goblins and a shocking glimpse of a fetal Voldemort – are sensational."
Time: "DH2 is, essentially, a war movie, a prolonged siege of Hogwarts, a children's crusade against the Dark Lord and his overwhelming forces. The martial damage wreaked on the school is reminiscent of a blitzed London, a cratered Munich, in World War II – a good-vs.-evil face-off that Rowling surely had in mind as clearly if not as immediately as J.R.R. Tolkien did when he sent the Fellowship of the Ring trudging toward Mount Doom."
Hitfix: "I feel very lucky to have watched the Harry Potter series unfold in real time over the years. These are going to live on, rewatched for years to come, just like the books, and I look forward to the day I can watch them with my own boys. But for now, I'll just enjoy knowing that I saw a studio pull off something almost impossible yesterday, and I'll marvel at just how poised and confident the entire production seems, how well it all comes together. And when the film finally ends, when those last few images play out, it is more than satisfying.  It is triumphant."