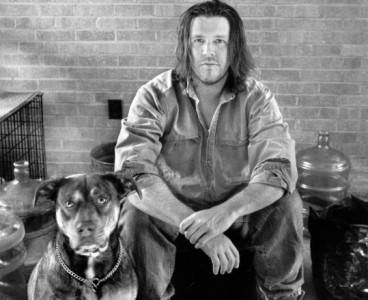 In 1996, Rolling Stone sent reporter David Lipsky to interview David Foster Wallace. Wallace was riding high; his magnum opus, Infinite Jest, had just been published to more attention than had been bestowed upon any writer in recent memory. The word "genius" was being bandied about. Wallace was 34, Lipsky 30 – the latter had also had one novel, The Art Fair, published. So he was coming to the interview with his own agenda – i.e., wanting what Wallace had, the sudden fame and literary accolades.
This being David Foster Wallace, however, any praise was sure to be refracted in the prism of his own self-consciousness and self-doubt. Any weight he gives to the praise must be equally distributed to the criticism.
Although Of Course You End Up Becoming Yourself (Broadway Books, 2010, 317 pps, softcover, $19.99) is a funny, sometimes painful (considering how the story ends) but always fascinating dialogue between the two men. Lipsky attempts to uncover the real David Foster Wallace, to dig underneath the verbal gymnastics and get the subject to admit yes, it feels pretty good to be hailed as a brilliant writer.
The two journey to Minneapolis from Wallace's Illinois home for a reading and back, missing a plane on the way and making a road trip out of it. There are digressions into pop culture, including Wallace's crush on Alanis Morissette, and his love of dogs, of which Wallace had two; and there's lots about the writing of Infinite Jest and the seductions of entertaining ourselves to death. For David Foster Wallace fans, the book is a treasure trove of the author's personal habits and idiosyncrasies, including his addictions to diet pop and TV (which he only watches at friends' and in hotel rooms).
Wallace committed suicide in 2008. A posthumous novel, The Pale King, is due next year. The writer's prodigious and yes, often brilliant mind has inspired a cult-like following (upon his death, Vancouver writers and fans – and, no doubt, others in most major North American cities – organized a tribute that included readings from his work) that is sure to grow as the singularity of his novels, short stories and essays becomes more and more obvious. Although Of Course You End Up Becoming Yourself is a worthy footnote to the canon – it captures both David Foster Wallace and the culture at a certain point in time, when outside validation and critical self-doubt had reached a kind of impasse, and fiction still mattered.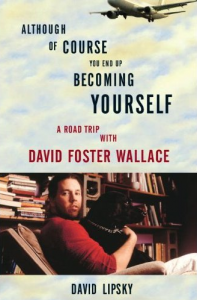 Read more about The Pale King in the New Yorker.