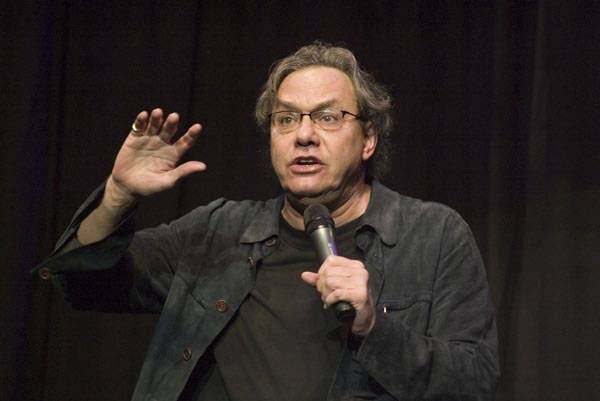 Review – Lewis Black at the Centre in Vancouver for Performing Arts, May 2009
– by Crystal Huba
I'm not totally convinced that Lewis Black is really that angry. Is he pessimistic and frustrated? Yes. But his spaz attacks- where he would wiggle his bony finger, say FUCK and have droplets of spit coming out of his mouth – seemed a bit too rehearsed.
Before I further discuss Lewis Black's one-hour set last night at the Centre in Vancouver for Performing Arts, I have to mention his comedic compadre opener. Kathleen Madigan delivered a tight half-hour set, making jokes about her mom identifying a lesbian couple holding hands: "You know, how do you know if it's not the blind leading the blind?", to doing a satisfying imitation of an aging Larry King interviewing Liza Minnelli.
Once Black arrived in his charcoal grey suit, his first "attack" opened with a complaint the sun only came out for a moment four hours ago, which had been the first time in his two week cross Canada trip. He then told people to give up whatever religion they had, get on their knees and "PRAY FOR THE SUN!!" Once someone yelled out that we were laidback. Black said, "No. You're not, you get no fucking sun, something like that should cause an ANXIETY ATTACK!!"
Black of course led into the typical Canadian poking about the -30 degree weather in the East, "…when your face can freeze after thirty seconds of exposure God is telling you to GET OUT!" He went on to say that that lifestyle is the equivalent of shoving ice cubes up your ass. He also managed to get in some bits about Stephen Harper, saying he was jealous that Canada  had a Bush equivalent to joke about, and commenting on the Prime Minister's ignorant references, such as calling the Swine Flu "the Mexican Flu," and expressing his shock that our Minister of Science doesn't believe in evolution.
All Canadian joking aside, he turned the jokes towards himself and exclaimed that he turned 60, and quickly suppressed applause: "Don't applause the passing of time… after 21 you are just celebrating getting closer to death."
The evening got more interesting when he mentioned his belief in reincarnation. To his surprise, four people clapped–apparently no one claps at this remark. "You must have just come from a Buddhist centre," he responded. He further explained that he wanted to be reincarnated as a monkey because he thinks they are smarter than humans. Why would we leave the jungle to go work in a cubicle looking at pictures of monkeys when we could live in the jungle, masturbate and sleep all day?
With further Buddhist thought, He spazzed about Twitter, "If you are Twittering YOU ARE NOT IN THE PRESENT FUCKING MOMENT." With spit appropriately flying on the stage.
Close to the end of his set, Lewis Black managed to make good Barack bits, such as, "His nipples are lactating hope." He spent a good while venting that absolutely nothing in his generation that he wanted to happen had been accomplished. Nothing. The hope train, he said, came a long time ago and wouldn't accept him. I don't know if I would let him on my train either–but maybe I would, since he's not that angry, but just a nice old bloke trying to get his two cents in.
Well at least that's what I thought. Then he pulled out his iPhone and said, "I can download 30,000 pictures of vaginas, but can we get alternative energy!"